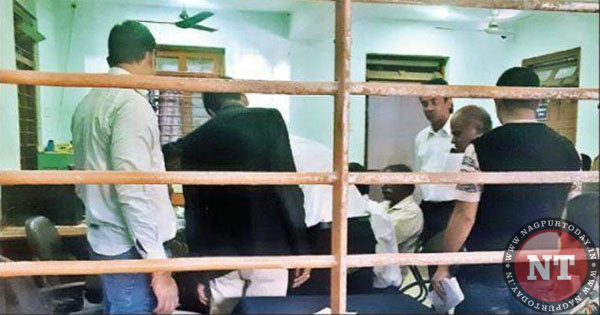 Nagpur: The Assistant Public Prosecutor Dipesh Parate, who audaciously assaulted the Civil Judge Senior Division Kiran Deshpande in Nyay Mandir (District Court) premises on December 26, was granted conditional bail by Sessions Court on Friday.
It may be recalled that the accused Adv Dipesh Parate slapped the Judge Deshpande and openly warned him of dire consequences after the latter passed an adverse order in a civil suit filed by the lawyer's father Madanlal Parate. Taken aback by the audacious attack, the Civil Judge Deshpande and another judicial officer S V Deshmukh shouted for help. Lawyers and bystanders chased Dipesh and caught him on the sixth floor and handed him to police personnel but not before another drama. The accused had approached a big window in a bid to commit suicide but was whisked away in time by lawyers and police constable Santosh Pande.
The accused Dipesh Parate was taken into custody by Sadar Police and offences under Sections 353, 506 and 332 of the IPC were registered against him. Narrating the sequence, in a police complaint, the Civil Judge Deshpande stated that at 12.45 pm he was in the chamber of Officiating Principal District Judge Vibha Ingle on the seventh floor. He was standing near the lift meant for judges with fellow-judicial officer S V Deshmukh. The accused Adv Parate was following him and rushed towards him and within moments slapped him. This sudden attack left the Judge stunned and his glasses fell down. Parate tried to flee but was caught in time by lawyers and police personnel.
According to complaint lodged by the judge, he had decided a civil suit instituted by Madanlal Parate (Regular Civil Suit no 404/1997), father of accused Dipesh, on November 28. Since the judgement was not in their favour, the accused, who is an Assistant Public Prosecutor, instead of resorting to legal methods decided to beat the judge and threaten him. The High Court took serious cognisance of this incident and initiated criminal contempt proceedings against Parate refusing the plea of District Government Pleader Nitin Telgote. Adv Telgote had requested the High Court to show leniency towards Dipesh as this was the first time such incident had happened.