Nagpur: In a major action, the Property Cell of Nagpur Crime Branch not only seized property worth Rs 40 crore of a defaulting builder but also forced him to return lakhs of rupees to people who had booked flats, houses and row houses by paying crores of rupees.
According to details, the accused builder Hemant Sikandar Zam and other Directors of Zam Builders and Developers Pvt Ltd with office at Paryavaran Nagar, Somalwada, had purchased 30 acres of land situated in Mauza Waghdhara, Hingna in the year 2010-2012. The builder started a project named Kanhaiya City on the land. Around 418 people booked flats/row houses/bungalows in the proposed Kanhaiya City by paying varying amounts totalling around Rs 2.59 crore in 2010. The builder 'promised' the prospective buyers in writing that the flats/row houses/bungalows would be handed over to them in 18 to 36 months after the booking.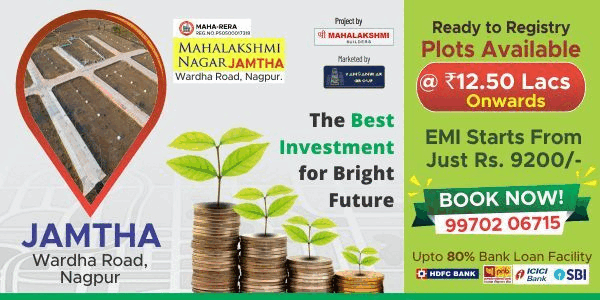 However, the builder totally failed to fulfil his promise as not a single person was handed over the possession of any flat or row house or bungalow. One of the aggrieved persons named Shrikant Ramchandra Janbandhu (43), resident of Samata Nagar, Kumbhartoli, lodged a complaint against the builder Hemant Sikandar Zam and other Directors of
Zam Builders and Developers Pvt Ltd with Sonegaon Police Station on 19.10.2015. Janbandhu had on May 5, 2011 booked a flat in the Kanhaiya City and paid Rs 2.39 lakh from time to time. He was neither handed over the flat nor returned his money. Like Janbandhu, hundreds of other people had paid money in crores to the builder. Sonegaon police at that time had registered a case under Sections 420, 406, 409, 34 of the IPC read with Sub-sections 3, 4, 8, 13, 14 of Maharashtra Ownership Flat Act 1963 and launched investigations.
The case was handed over to Economic Offences Wing of Crime Branch in 2016. However, since the Property Cell was set up this year following a flood of land grab complaints against land mafia Dilip Gwalbanshi and his gang, the case was handed over to this Property Cell. The Police Inspector of the Property Cell Vazir Sheikh took charge of the investigations on June 10, 2017. Acting swiftly and decisively, the PI Sheikh provided relief to dozens of people.
Cracking the whip on the defaulter builder, the PI Vazir Sheikh forced the accused Hemant Zam to return Rs 26 lakh to 25 aggrieved persons through DD. Remaining persons have been promised return of their money by July 30. Similarly, to prevent third party claim in the case, the Property Cell has seized immovable property worth Rs 40 crore of Zam Builders and Developers Pvt Ltd on 18.6.2017 in accordance with the provisions of Section 102 of CrPC. A report in this connection has been submitted to the court. Thus the Property Cell ensured that the victimised people would get justice by way of return of their money.
The action was initiated under the guidance of DCP, Economic Offences Wing, Shweta Khedkar.