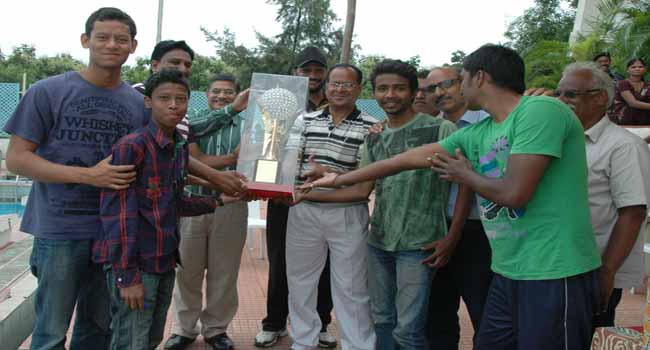 Nagpur News: Rashtrsant tukadoji maharaj Nagpur university and Jyotiba college of Physical Education jointly organizes the inter college swimming tournament at the swimming pool of Jyotiba college of physical education, hingna road, Nagpur from 17 to 19 august 2013. In the inagural function of the tournament Dr. Ashish Kumar Panat, Principal, PIGCE, Nagpur was the chief guest along with Dr. D. Welurkar, Director, Dept. of Physical Education, RTMNU as guest of honour. In the tournament 160 boys and girls took part from various colleges.
In the prize distribution ceremony on 19 august 2013, Dr. Dethe, Principal, PIET, was the chief guest along with Dr. Vijay Datarkar, Principal, JCPE, Prof. Inderjit Randhawa, Shiv Chattrapati Awadee, Prof Rode, Principal Rathod, Dr. Pravin Lamkhede, Prof. Pundlik, Dr. V. K. Mishra, as the guest of honours. Dr. S. R. Tiwari, Dr. R. M. Raut, Dr. B. S. Pawar, Dr. Amit Kanwar, Prof. Anmol GAndhe welcomed the guests and the programme was handled By Dr. Sambhaji Bhosale and he also proposed the vote of thanks.
In the men section Priyadarshini College of engg. Secured the first place with 20 points and followed by GHRCE on second place with 18 points.
FINAL RESULTS  (WOMEN SECTION)
EVENT :- 50 mts free style
| | | | |
| --- | --- | --- | --- |
| Sr. No. | Name of the player | Name of the college | Performance |
| 1 | Devyani Bhave | Centre Point College | 0:38:22 |
| 2 | Ujali Deshmukh | Mohata Science college | 0:38:90 |
| 3 | Rupali Giridhar | RTMNU Dr. Ambedkar law college | 0:39:89 |
EVENT :- 100 mts breast stroke
| | | | |
| --- | --- | --- | --- |
| Sr. No. | Name of the player | Name of the college | Performance |
| 1 | Priyanka Kuldhariya | Suresh Deshmukh college of Engeneering, Wardha | 02:27:64 |
| 2 | Shewta Kale | Fes.Girls college, Chandrapur | 02:40:47 |
| 3 | Himani Nikhare | RGCER | 02:50:25 |
EVENT :- 100 mts back stroke
| | | | |
| --- | --- | --- | --- |
| Sr. No. | Name of the player | Name of the college | Performance |
| 1 | Anushri Tidke | PCE | 01:45:60 |
| 2 | Prerna Panjwani | Hislop College | 01:47:21 |
| 3 | Shimpla Dhawale | Centre Point College | 02:07:50 |
FINAL RESULTS  (MEN SECTION)
EVENT :- 200 mts free style
| | | | |
| --- | --- | --- | --- |
| Sr. No. | Name of the player | Name of the college | Performance |
| 1 | Shirish Dharme | RCOEM | 02:35:61 |
| 2 | Ajinkya Kalele | Dr. Ambedkar College | 02:56:80 |
| 3 | Soham Dakhole | YCCE | 03:24:56 |
EVENT :- 400 mts free style
| | | | |
| --- | --- | --- | --- |
| Sr. No. | Name of the player | Name of the college | Performance |
| 1 | Abhishek Lambat | Shivaji Science College | 05:56:00 |
| 2 | Tejas Sharma | St. Vicent Palloti | 06:39:91 |
| 3 | Jitesh Mesavat | DNC | 06:48:99 |
EVENT :- 200 mts Breast Stork
| | | | |
| --- | --- | --- | --- |
| Sr. No. | Name of the player | Name of the college | Performance |
| 1 | Ajinkye Kalele | Dr. Ambedkar College | 02:57:00 |
| 2 | Rajul Singh | PCE | 03:07:07 |
| 3 | Ashwin Mokashi | GHRCE | 03:08:43 |
EVENT :- 200 mts IM
| | | | |
| --- | --- | --- | --- |
| Sr. No. | Name of the player | Name of the college | Performance |
| 1 | Pranav Kadam | NTCPE | 02:42:62 |
| 2 | Abhishek Lambat | Shivaji Science College | 02:59:82 |
| 3 | Vaibav Bhonde | Dr. Ambedkar College | 03:27:15 |
EVENT :- 4 X 100 mts free style
| | | | |
| --- | --- | --- | --- |
| Sr. No. | Name of the player | Name of the college | Performance |
| 1 | | GH. Rairsoni College | 05:06:77 |
| 2 | | Priyadarshini College of Eng. | 05:05:83 |
| 3 | | RCOEM | 05:59:50 |
EVENT :- 50 mts free style
| | | | |
| --- | --- | --- | --- |
| Sr. No. | Name of the player | Name of the college | Performance |
| 1 | Harekishan Gogai | PCE | 0:26:20 |
| 2 | Yash Parate | St. Vincent Palloti | 0:28:81 |
| 3 | Sudhanshu Kaore | GHRCE | 0:31:49 |
EVENT :- 100 mts free style
| | | | |
| --- | --- | --- | --- |
| Sr. No. | Name of the player | Name of the college | Performance |
| 1 | Yash Parate | St. Vincent Palloti | 01:05:35 |
| 2 | Sudhanshu Kaore | GHRCE | 01:11:42 |
| 3 | Shirish Dharme | RCOEM | 01:12:15 |
EVENT :- 1500 mts free style
| | | | |
| --- | --- | --- | --- |
| Sr. No. | Name of the player | Name of the college | Performance |
| 1 | Pranav Kadam | NTCPE | 21:55:30 |
| 2 | Tejas Sharma | St. Vincent Palloti | 26:46:45 |
| 3 | Abhishek Deshpandy | RTMNU Ambedkar LAW College | 27:03:13 |
EVENT :- 100 mts Breast Stork
| | | | |
| --- | --- | --- | --- |
| Sr. No. | Name of the player | Name of the college | Performance |
| 1 | Ajinkaya Kalele | Dr. Ambedkar College | 01:19:40 |
| 2 | Ashwin Mokakshi | GHRCE | 01:24:60 |
| 3 | Akash Timande | P. Bhagwati College of Eng. | 01:31:05 |
EVENT :- 100 mts Back Stork
| | | | |
| --- | --- | --- | --- |
| Sr. No. | Name of the player | Name of the college | Performance |
| 1 | Harekishan Gogai | PCE | 01:13:52 |
| 2 | Vaibav Bhonde | Dr. Ambedkar College | 01:27:96 |
| 3 | Mufaddal Ezzi | RCOEM | 01:34:15 |