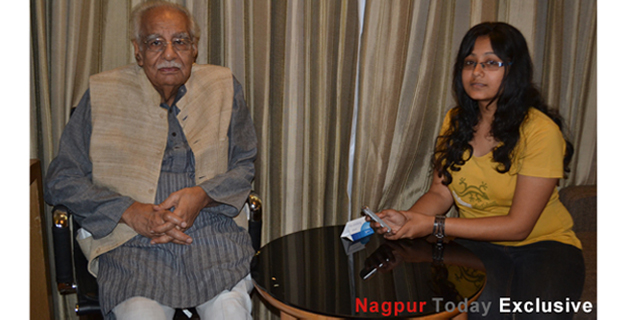 Nagpur News: Veteran journalist Kuldip Nayar was in city  to  address an event organized by Rashtrakant Tudkoji Maharaj Nagpur University (RTMNU). In an Exclusive interview  to Meghna of  Nagpur Today he spoke on various current happening in India, his personal opinion on the scams plaguing the UPA government, Foreign Direct Investment,Journalist and other issues being faced by the country today.
Below is the excerpt from the Interview
Meghna : Your new autobiography has created quite a stir in political circles. Can you please comment on the fresh Babri Masjid controversy that has come up?
Kuldip Nayar. According to me there is no controversy. My information says that Narasimha Rao, the then Prime Minister, sat in Pooja when they started demolishing it (The Babri Masjid) and he got up only after they had finished demolishing it. Socialist leader Madhu Limaye, who was very close to him (the late Narasimha Rao), told me this. If you read the biography of Arjun Singh, in it he says that he had been trying to get him, he couldn't get him at all.
Meghna : A section of your biography had to be removed, since it had hurt religious sentiments of a certain community. Are you in favour of censorship of literary and journalistic pieces to appease a community?
Kuldip Nayar :  Only one- two sentences were removed. See, the situation was that religious sentiments of people are being hurt. I am the last person to hurt any sentiments. Because, the person who died in Operation Bluestar had a different name. So, because I had confused the name, those sentences were removed. Otherwise the question of censorship doesn't arise. You can see it from my book.
Meghna : How much of a difference do you think the India Against Corruption movement will further make to the country?
Kuldip Nayar :  If corruption were to be removed, we will have crores and crores of rupees that are being disposed, which we can spend in infrastructure, which we can spend in steps to remove poverty, in health and in education. It would be heaven if corruption were to be eradicated. [About Kejriwal and IAC], well, there is a vacuum. People are sick of the established political parties, the Congress and the BJP, and also of the Left. So, they are looking for an alternative. Whether they can fill the vacuum is yet to be seen.
Meghna : So would you personally prefer that they try to bring about social change or enter politics?
Kuldip Nayar :  The thing is that social change cannot be brought about without entering politics, because the system is so rotten that you have to capture the system to improve it. Meaning you will have to enter parliament or the assembly.
Meghna : So, you do believe that the democratic system in the country needs to change.
Kuldip Nayar :  Oh, yes. I am of the opinion that Parliamentary Democracy, we must start thinking what to do (about it) because it's not working at all. It hasn't worked for the last 10 years, because there are too many compromises to make. The government has too many skeletons in its closet. Parliamentary Democracy is the best, but if it is not working, then we should start thinking (of other options).
Meghna : So do you personally believe that coalition politics hinders progress?
Kuldip Nayar :   No, I am not saying that the principle in itself is bad. But the coalition parties that we see have come to govern us.T hat combination doesn't seem to gel.
Meghna : Dr. Manmohan Singh is widely acknowledged as more of an administrator than a politician. But still, his government has been plagued with scams recently. Do you think that this has affected his credibility?
Kuldip Nayar :  Of course it has affected the credibility. According to me, Prime Minister Manmohan Singh has failed as an administrator also. Governance also means administration. I think his governance is lacking, and he also seems to have, if not connived, at least kept quiet, at the corruption going on around him.
Meghna : On a related note, what do you think is the relevance of popularly elected leaders like Mamata Banerjee, as against leaders from the Rajya Sabha like Dr. Manmohan Singh?
Kuldip Nayar :  Rajya Sabha leaders are not elected. This has been reduced further by the Congress and the BJP coming together and removing the domicile clause. Now, Rajya Sabha members don't have to belong to the State, they can be anywhere. Rajya Sabha is the Council of States; it should be configured as it is. The domicile clause should come back. But as far as Mamata Banerjee is concerned, the process (of her election)is a direct process. One may like her politics or not, but she comes elected through the ballot box, which any day is better.
Meghna : So, you prefer our candidates to be elected by the ballot box
Kuldip Nayar :  Yes, definitely.
Meghna : What is your opinion Foreign Direct Investment in retail?  Do you think it will be benefit the country?
Kuldip Nayar :  The way this country has been developed, it seems that Foreign Direct investment has become very essential. We have not really learnt the art of self- dependence- it hasn't worked out. When our growth rate was 3-4%, then Manmohan Singh came with (the LPG model of economic growth). Now with this slowdown, he has again come up with the same solution. So it seems that since we have not been able to develop a parallel system, we have to depend on FDI. It's not a good thing, but it's inevitable.
Meghna :  The congress, in their manifesto for the 2009 elections, had promised one crore jobs.
Kuldip Nayar :   No, they haven't produced that many jobs. Congress cannot produce 1 crore jobs.
Meghna : What is your opinion on journalistic malpractices, such as the paid news scandal?
Kuldip Nayar : It's a scandal; it has brought a bad name to the profession, a bad name to journalists and a bad name to us, the journalists who have already retired. We are supposed to be the Fourth Estate. What kind of Estate are we, if this pillar is already collapsing?
Meghna : This is with regard to 24/7 news channels and real time news via the internet. Do you think that in the pressure of delivering immediate news, the quality of news is being affected?
Kuldip Nayar :   The quality of news has already been affected. When you are breaking news 24/7, it has to.
Kuldip Nayar : Do you have any advice for the newest generation of journalists in the country?
Kuldip Nayar :  My advice to journalists is that they should have some commitment to the profession. I do not find them committed; they are committed only to finding their first job, and then trying to go up quickly. They have to work hard, and least, they have to earn the title of credibility. Today's journalists don't have that.
Meghna Majumdar