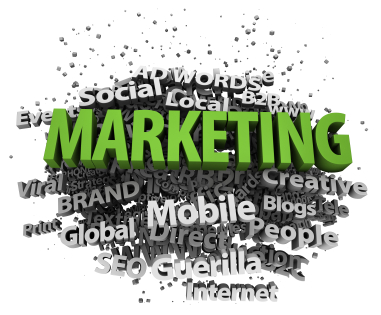 Is a Career in Marketing Right for You?
A career in marketing can take you in several different directions in your life. Marketing is comprised of many aspects and activities. You will find that there are many opportunities in marketing, but the common denominator of those opportunities is the sense of ownership over the product and/or service and the necessity to understand the customers' needs and desires and then be able to translate those needs in the communication of your marketing strategy. That marketing communication can be done in several ways that is why a career in marketing opens several doors as a profession.
In the marketing profession your job will be to take a "standard" product and/or service and associate that product or service with a brand name. Marketing can be defined as being the middle function between product development and sales. Let's think of it as the storehouse for such things as advertising, public relations, media planning, sales strategy, and much more.This ensures that consumers look beyond the price and function of a product or service when they are weighing their options to buy a product. A key part of a career in marketing is to understand the needs, preferences, and constraints that define the target group of consumers or the market position corresponding to the brand. This is done by market research and this plays a vital role in marketing strategies.
The great thing about marketing is it is a function that is needed in every company in every industry, so career potential is unlimited. There are career tracks in marketing that you can follow. You can find many opportunities in marketing in the following categories:
Advertising
Promotions
Public Relations
Let's take a closer look into each of these categories and find the one that best fits your personality.
Advertising
If you decide that Advertising is the career track you wish to pursueyou will find that advertisers work with all aspects of marketing from strategy to concept to the execution of the strategy. This line that you wish has to have a lot of creativity inside you.
Is the Advertising Career Track for You?
Careers in advertising involve variety, compensation based on performance, creativity, travel, satisfaction from seeing ones' personal accomplishments, and contact with others to various other factors. Advertising jobs are found in advertising agencies, media organizations, advertising departments in business firms, non-­profit organizations, and marketing research firms. The four major career paths in advertising are account management, creative, media and research.
Positions available in Advertising:
Advertising Managers
Advertising Sales Director
Account Executives
Account Planners
Media Director
Media Coordinator
Media Buyers
Public Relations
Public Relations.
It is the responsibility of the Public relations department to manage the communication with the media, consumers, employees, investors, and the general public. This is one of the most important jobs to have as you are the face of the company. They are considered the spokespeople for the company. They will often write press releases to promote new products or to keep the investment community informed of business partnerships, financial results, or other company news. If they are based out of media relations they will spend their time responding to information requests from journalist or pitch stories to the media.
The job and oath that a Public Relations employee often takes is to account the company in a flattering light, uphold its public image in a crisis, generate a positive buzz around its company and business practices, and of course to publicize its products and services successfully as they create a brand value for the company.
Is the Public Relations Career Track for You?
In order to do well in Public relations you must have strong communication skills, the ability to articulate well, be able to understand a variety of people, be confident, and be able to learn quickly what your clients do in order to communicate their messages effectively. Public Relations professionals should also be quick thinkers and influential as well as have an outgoing personality and be will to be assertive.
Positions available in Public Relations:
Account Coordinator or Public Relations Coordinator
Account Executive
Media Relations
Director, Vice-President
Government PR Departments
PR Consultant
Is a Career in marketing still right for you? Decide
Marketing is a vital necessity not only for business firms, but is also performed by governments, educational, religious, social service, and non-profit organizations or institutions. Marketing provides a great number and variety of job opportunities available to you no matter which career track you decide to follow.
Just follow what you heart says and work hard towards your goal as hardwork and dedication will always pay no matter which career you choose.
By Marcelo Azavedo