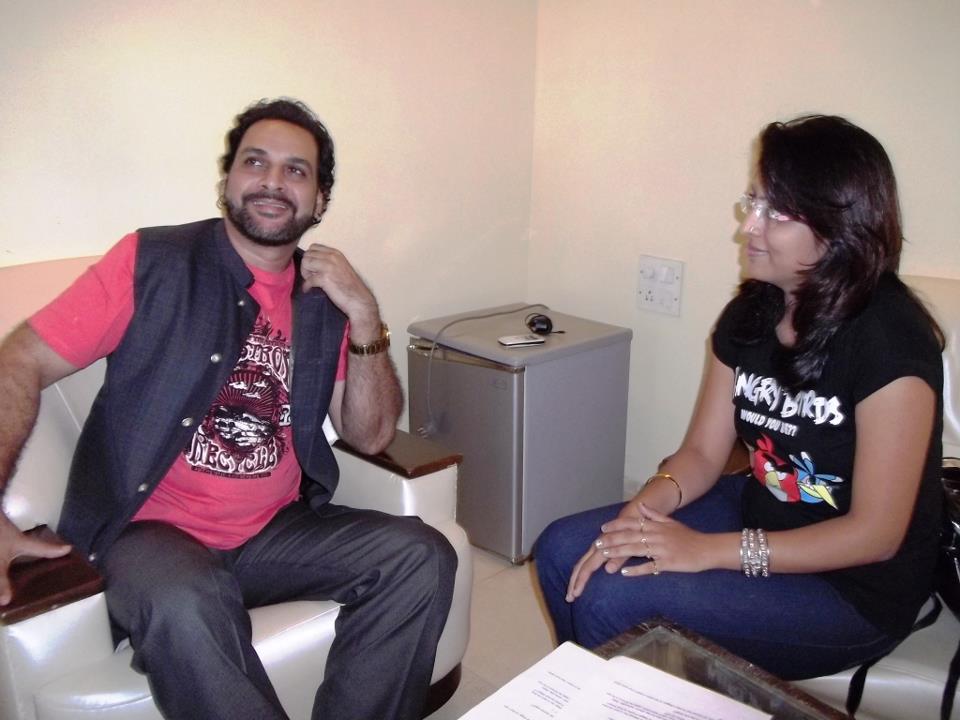 Nagpur Today gets candid with the city's very own – Shahbaaz Khan.
Shahbaaz Khan is an Indian actor who has done more then 40 Hindi films. Shahbaaz Khan was born in the year 1966, to an Indian classical vocalist, Ustad Amir Khan and Raisa Begum.
Suhani – Since how long since are you in the film industry and how was your experience?
Shahbaaz Khan- I left Nagpur and started my career in 1988,and then in 1989 I was in Bombay struggling for my work and Break, In 1990 I started working for "Tipu Sultan" which was a break for me . It's been almost 20 years now in the Film Industry. I must say its a fabulous experience…it is the only profession where u can learn so many things. Normally the thing is like People used to work against their wishes and never did what they actually wanted to do .
They just earn money and trust me earning money is not important. And for me working in the film industry is fruitful job which I am doing and I am lucky that people love me so much and i feels lucky when people come to meet me.
Suhani – How did you start your Career and what was your first step towards the Film Industry?
Shahbaaz Khan-As I told you earlier i started in Film industry with my first lead role as Tipu Sultan , and I was so young, I was just 21 years old when I started Struggling. One old friend of mine Nawab Ali was there in Mumbai and he had written a letter to me stating this "Shahbaz what you are doing in Nagpur, Just take a ticket and come to Bombay ,this is your real place" and As even I was looking for a career prospect and for the sake of friendship, I went to Bombay . Many of my friends and family were there to support me, I even met ANU MALIK who too was a stuggling Music Director that time, and he told me that "Shahbaz u have a great Personality u will do good in the Film Industry".
I was so happy that day and then I meet Akbar Khan who inspired me a lot, and he is the person who had given me a break. Since childhood I was a big fan of the Khan family like Sanjay khan, Firoz khan and Akbar khan. Akbar khan gave me the role of Haider Ali and supported me a lot.
Suhani –  Why did u choose Acting as a Career?
Shahbaaz Khan-My father was a great classical singer, awarded the Padmbhushan many such awards and my mother told me not to pursue singing because she said that If in case I don"t get success in this, people will comment on Baba that Ustaad Amir khan's Son" Shahbaz Khan" is not doing well in Industry, so my Mom said that do whatever you want to, but Skip Singing. So then onIy I decided to start with Acting as a Career.
Suhani –  Did you ever take acting classes?
Shahbaaz Khan-There is Nothing in Acting to learn, its all about Art and Craft. You cannot learn it. Its already in you. You have to take your basic emotions out, learn the camera angles, the takes, etc. I never learnt about this. I just tried to copy the biggest stars of bollywood like Firoz khan, Vinod khanna ,Dilip sahib, Naseeruddin shah, Bachhan sahib , I just followed them and I learnt from them only they all are my heroes. They are my trainers.
Suhani – Which Bollywood Celebrity inspires you?
Shahbaaz Khan-I am a big fan of Naseeruddin Shah. I never ever seen a actor like him. He is a great talented actor and I learnt a lot from him. Apart from this, Dilip Sahab, he is the God of Actors. The Film Industry would have been nothing without him. He is the Pillar of this industry. These two actors really use to rule on my mind.
Suhani – What is the bad part and the good part of being in the Film Industry?
Shahbaaz Khan-Today's Bollywood is all about Favoritism,this should n 't happen. Today, Whoever is the public"s favorite will be
doing the part. Whether her is capable or not. And this is being Partial towards the ones who are really good. This should be stopped.
Suhani – Which is your Dream Role?
Shahbaaz Khan-I want to do so much. I have so much inside me and people are unaware of it. I wanted a soft and kind hearted persons role, pure artistic type of role as I am. And yes I"m doing such a role in the coming movie "Unforgettable" and this is my dream role I can say.
Suhani –  What are your Likes and Dislikes?
Shahbaaz Khan-I like to Dress-up well. I like to have good and various types of food. I am a cool and chilled out person. And about dislikes, its like many times I get irritated by people who nag. i really hate dishonesty that is why I don't like Politicians. I don't like lies and people with Double Standards.
Suhani –  Did you ever perform in School?
Shahbaaz Khan- Yes! I was in St Joseph School ,Kampte and I remember I had perfrmed for a play -"Wo mai nahi". It then became a film. I was constantly participating in School Plays.
Suhani –  Would I like to give any Message to our Youth?
Shahbaaz Khan-I would like to say that whatever you are doing, just do it by your heart. If you use your mind, then your work quality will fluctuate. Give your best. Try hard . Give your best shot, be true and be clear about your goal. You will definitely Succeed. It is very important that you to put your heart and soul to your work.
Suhani – Who makes you stand here?
Shahbaaz Khan- My mother and her blessings. I am nothing without her. As she guided me on the way when i was first taking my steps; and see, I"m here. And I can even say that if my father would have been alive, I would have been a music director but wherever I am today, is just because of my mother.
Suhani – How does Your family support you?
Shahbaaz Khan- Actually I am my own master, my own Boss. I have taken my own Decisions and Nobody has ever stopped me.
Suhani – How many friends do you have in Nagpur and any mesaage for Nagpurian's ?
Shahbaaz Khan-I have got very few friends in Nagpur but I can say that everyone in Nagpur are my friends. They all love me a lot , they have always appreciated me, they all feel proud of me. And when I mention about my special friends, I have Satnaam, Nawab Ali, Raseeq and Mumtaaz and many more friends are here and who will always be there for me . And I just want to say I love and appreciate all my friends and . Thank you.
I wish the new e-newpaper Nagpur Today. All the very best.
Suhani Vanjani