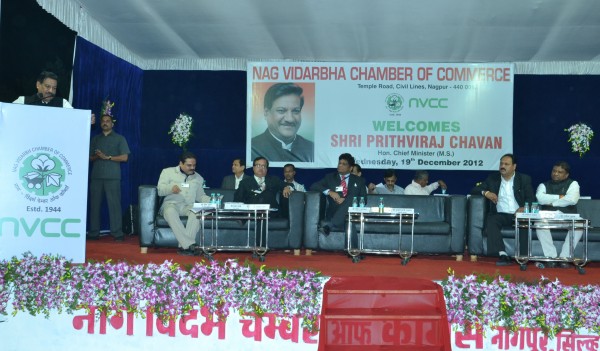 Nagpur Business News: The hope of Vidarbhaites were rekindled on Wednesday when Chief Minister of Maharashtra Prithviraj Chavan said that the much awaited project MIHAN would take off soon with Boeing MRO getting operational in March 2013. The main problem of the land runway has been resolved as adequate land of 146 hectares involving an investment of Rs 1.5 Crore has been acquired.
The are other companies already establishing their foothold in the project, companies like Infosys is coming with a project where 13,000 jobs would be offered. The next in line is TCS who would also launch its operations with provision of enormous employment.
On addressing the NVCC (Nag Vidarbha Chamber of commerce), he said that there is saturation in the city of Pune, big companies were eyeing developments in cities like Nagpur. He further said that " We are marketing MIHAN and inviting investors to park their money".  The other way to attract investors was that an 'Adavntage Vidarbha 'has been planned. The main concentration sectors that we are looking at are – Manufacturing, co-operatives, textile and automotive.   Around 5000 hectares of land would be acquired for the NIMZ project. The Indian Institute of Information Technology establishment is considered in places like Nagpur and Pune.
Octroi
The next he spoke upon the Octroi Issue. He said that the government was introducing Local Body Tax (LBT) in lieu of Octroi. It would be an account – based tax with a totally hassle-free structure.  There has been a delay in implementation of GST due to opposition from Non congress- ruled states. GST would synchronize  Taxes and create competitive markets in the country.
President of NVCC Dipen Agrawal shed light on the erratic hike n power tariff which has crumbled the backbones of industries. He went on to say that the power tariff has increased many fold on the last 13 months. The rate that has being charged currently is Rs 8.50p per unit which is comparatively higher that i.e Chhattisgarh and MP and other places have been charged a fee of Rs 4.50p per unit. Vidarbha is the major power region and most of the power is being produced in this region but later is being distributed to western Maharashtra. There is an urgent need to develop irrigation through canal network. Cold storages and warehouses must be set up to increase shelf life of agriculture produce.
Finally he said that NVCC wants compulsory installation of captive oxygen Cylinder plants at government hospitals, "In comparison to the charges of supplies of oxygen cylinders the payback period for these plants would be around 3 to 3 ½ years . Nagpur Rail project should be implemented at the earliest.
A detailed memorandum was presented to the CM to address the various issues pertaining to Vidarbha and the city of Nagpur.
The programme was conducted by Hemant Khungar, Hemant Gandhi introduced the guest. Present were Jaiprakash Gupta, City Chief of Congress Party. Nilesh Parveka, MLA from Yavatmal, Suresh Jain, President of Amravati  Chamber of Commerce, Ravi Channawar, President of Gadchiroli Vyapari Sangh, Arunbhai  Pobaru, President of Yavatmal Chamber, Arun Kashikar, President of Wardha Merchants, Basantkumar Bachuka of Vidarbha Chamber Akola, Rajindrasingh Bagga, Secretary of Gondia Vyapari Federation , Prakash Wadhwani, Govindlal Sarda, Ramesh Mantri, Ranjnikant Gariba, Raju Vyas, Mayur Panchmatia, Pratap Motwani, Prafull Doshi, Ajaykumar Madan, Ajay Patni, Anil Nair, Prashant Sarode, Farroque Akbani, Sachin Punyani, Arjundas Ahuja, Manubhai Soni and other were also present.