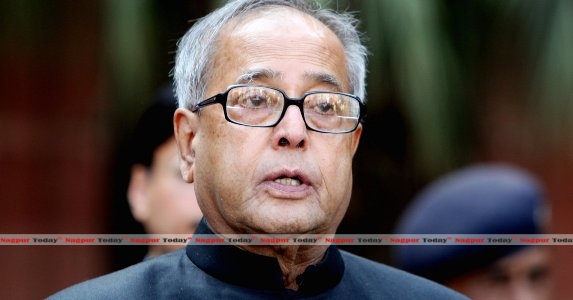 Nagpur News.
All is set for inauguration of  Krishi Vasant organised under the joint auspices of Central and Maharashtra government, at Napgur. Lakhs of farmers from state and out of Maharashtra are going to visit this exhibition. The exhibition will be inaugurated at the hands of President of India, Pranav Mukherjee at 11 am.
The press conference was held at Vanamati for providing details of  'Krishi Vasant'. At the time additional chief secretary, Dr Sudhirkumar Goel, agriculture commissioner, Umakant Dangat, Saner Patil, regional transport officer Sarjerao Shelke and Mrs Singhal were present.
Radhakrushna Vikhe Patil said that the exhibition is organised to commemorate late chief minister of Maharashtra, Vasantrao Naik. The exhibition is organised in the premises of Central Cotton Research Institute from February 9 to 13, 2014.  It is going to be inaugurated at the hands of President, Pranav Mukherjee and Governor of Maharashtra, Sankarnarayan will be in the chair. Maharashtra Chief Ministe, Pruthviraj Chavan, Union Agriculture Minister, Sharad Pawar, Agriculture Minister, Radhakrushna Vikhe Patil, Guardian Minister, Shivajierao Moghe, Food and Urban Supplies minister, Anil Deshmukh will grace the occasion. Taking into the consideration security measures adopted for the President , invitees will only given entry at the function. The exhibition will remain open for all from 12-30, after the inauguration ceremony.
The exhibition will have more than 800 big stalls from Maharashtra  and from other state participants.  More than 78 national level research institutions will take part in the event. There will be 20 agriculture universities and agriculture science institutes. Similarly government, semi-government, co-operative, NGOs and private institutions will take part in the exhibition.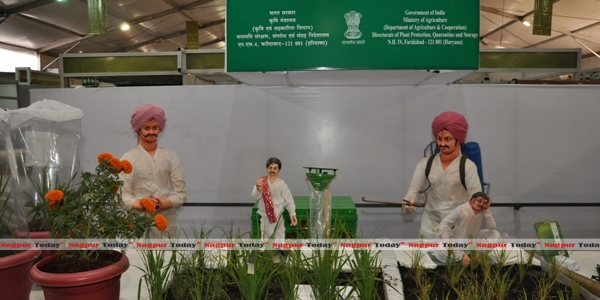 The exhibition will have 304 demonstrations of 54 crops . Out of that 15 will be national level (ICAR) institutes, 4 agriculture universities, 7 government agencies, 3 international institutes and 12 private companies are participating. The event will be organised on 10 ha area.
It includes animals, new techniques of animal breeding, dairy technology etc. It will have 11 animal species, 5 buffalo species, 2 lamb species, 4 goat species, 4 local hen species and 1 duck type. Fishery science, advanced technology relating to it and the its  business will also have prominent  presence in the event.
It will have mechanisation and advance technology based horticulture, cereals, oil seed self sufficiency, management and marketing  after harvesting, dairy development and fixed income from fishery, advantage of information technology in development of agriculture, such talks and seminars are organised. After seminars, debates will also be organised.  It will be held in 12 languages and in Marathi as well. The debate and talk will also be held on farmer-scientist topic.
Various companies will display their products and equipment useful for agriculture. Tractor expo, green house, poly house, shed net house and its construction, drip irrigation; fountain irrigation demos will be arranged.  Unified agriculture for solid income, model will be displayed. It includes catchment area development, non-irrigated agriculture scheme, chain irrigation, national horticulture scheme, Vidarbha Development programme, savings groups fortification and direct linking of producer and consumer concept are part of the event.
Farmers Wing will be chief attraction of the event. It will have 46 farmers' stalls which will tell about the success stories of the farmers, models, demos and films will be part of this.
A separate special wing 'Vasant Vaibhav'  is dedicated to screening  the film on life of former chief minister of Maharashtra, Vasantrao Naik. It shows the important work of Vasantrao Naik in the field of agriculture. Though lakhs of farmers are getting the opportunity to see the event in addition to market committess, government offices and other 351 agencies who will also witness the event through web casting technology, it will be possible for lakhs of farmers who are not visiting to witness the event.
It is estimated that forty five thousand famers will visit the expo and lakhs other famers will visit during the five days of the event. The lodging, boarding and to and fro conveyance facilities are arranged for these people. Special care is taken that no one is put to inconvenience. The farmers can witness the event at government cost. For this 10 railways, 1973 buses, 2269 small vehicles are arranged. Welcome wings are erected at Nagpur railway station and bus stand. The visitors can go from there to the exhibition spot free of charge.
The event will help technology reach the farmers. Similarly dairy industry, poultry, fishery information is readily available and farmers should take advantage of that.