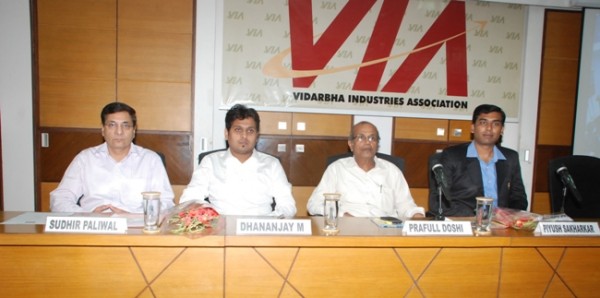 Nagpur News.
VIA organized a presentation on 2D & 3D to acquaint the industry personnel with Plazma Technology. The speakers were Piyush Sakharkar and Dhananjay M. from Plazma Technologies Pvt Limited Pune, organized by VIA Science & technology Forum.
Piyush Sakharkar said Fabrication Industry while working with different metals always on lookout for faster and economical solutions for metal cutting. Plasma cutting is the latest and widely used technology. It is rapidly replacing conventional metal cutting processes like Flame cutting i.e. Gas cutting as it is expensive and time consuming. For jobs which are too large or deal with materials which are too robust to make manual metal cutting practically difficult, Plasma Cutting Machines are now developed which have level of precision and ease of operation which can be effectively used for cutting Mild steel, stainless steel, Carbon and alloy steels, Aluminum and its alloys, Copper, Bronzes and brass Models, Pewter, Lead, Tin lead and alloys, Titanium alloys, Bionic alloys, Hard faced Materials, clad sheets. Cast Iron and Steel, Casting and Forging in the above metals, Runners and Risers. (Foundry Work)
He said Industries based on metal fabrication across the globe need robotized systems to survive, thrive and be competitive. In the automotive industry, Toyota's use of robotic production systems has been copied throughout the auto industry and exemplifies the transformative economic power of robotized systems. In the fabrication industry, prohibitively expensive manual labor has traditionally been the only way to deal with the shortcomings of 2D drawings, varying raw material dimensions and damaged raw material through costly rework and repeated production interruptions. Recently, recession driven price undercutting among US fabricators and loss of global projects to competitors from low-labor cost countries is driving companies towards robotized automation. Plazma ™'s Robotic Plasma Cutting system is made of standardized configurable robotic modules with unique proprietary software and patented high performance plasma torches.
He said their Pune based company M/s Plasma Technologies has indigenously developed Robotic Plazma cutting machines suitable for Indian industry. A single machine can be used as cutting solution to fabricate Beams, Channels, Angles, Tubes, Pipes and Plate processing. Such multipurpose machines, it eliminates manpower attrition affecting Fabrication output, it eliminates material handling problems which create a logistic nightmare with production and delivery schedules, it eliminates labor intensive and time consuming processes such as sawing, drilling, coping, grinding, manual lay-out and marking for fit up, it Eliminates dependence on skilled labor. Plazma Cutting Applications are: Processing of Beams, Columns, Channels, & Angles. Nesting of jobs for higher utilization of material. Produces all Standard & Nonstandard Copes, Miter Cuts, Compound Miters & Double Compound Miters. Beam Splitting & Beam Castellation-Allen, Rat-holes, Close-Copes easily possible. Processing of round pipes, Tubes without rotating. Single & Double Beveling with Root & Contour. Notching, Coating, Structural Steel Applications etc.
The speaker Dhananjay M. said Plazma's competitive technology advantage lies in innovative system design and integration of multiple technologies with: Proprietary application specific Roboswift™ software, Unique plasma cutting robotics and Roboswift™ software domain expertise, Customizable modular RoboPlazma™ robotic systems, Patented, domain specific, control software algorithms, Knowledge of multiple specialized technologies integrated into one system, Sizable Indian customer base where product application development can take place without threat of law suit.
Both the speakers added that the Plazma's competitive price advantage lies with: Smart hardware Design breakthroughs, Modular in house produced subsystems, Standardized configurable modules, just in time inventory, common multiple use parts add to the basic benefits of lower cost of labor, manufacturing, procurement, Research and innovation ensures continuous up-gradation of assembly products thereby improving overall solution efficiency make it price feasible, India's software and hardware engineering skills competitively enables : Detail engineering for each application vertical, Extensive application trials & prove outs in tech-center, Onsite customer Trial production & hand holding.
The programme was attended by representatives of Engineering industries, Equipment manufacturers, Fabricators, furniture manufacturers, Power & Transmission Tower manufacturers, Steel industries, professionals, engineering consultants, engineering colleges, polytechnic faculty members, Industrialists and VIA Members. Prominent members of VIA who were present were, Prafull Doshi, President-VIA, Pravin Tapadia, IPP-VIA, Vithaldas Tapadiya, Vice President-VIA, Sunil Bajaj, Member – VIA.
At the outset, the speaker Piyush Sakharkar and Dhananjay M. from Plazma Technologies Pvt. Limited, pune was welcomed by Prafull Doshi, President- VIA, Introduction of the speaker, vote of thanks and the programme was conducted by Sudhir Paliwal, Chairman-Science & Technology Forum.