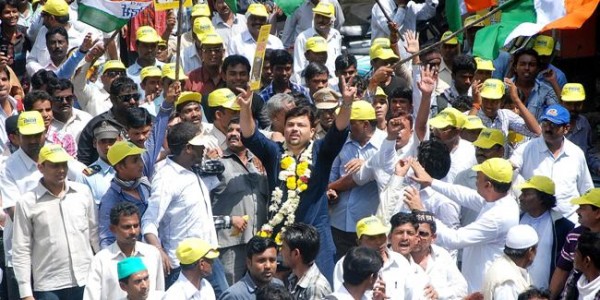 Nagpur News.
The voice for statehood to Vidarbha echoed with renewed vengeance on Saturday when the call for march (padyatra) to Sewagram in support of 'separate state' opened up to a huge response in Nagpur. The agitation called 'Vegda Vidarbha Padyatra' began on a peaceful note at Shahid Chowk in Itwari, which was powered by about 2500 students and leaders of various pro-Vidarbha political outfits.
As the rally advanced, copies of 1953 Nagpur Pact were burnt at Variety Square where members of participating groups also courted arrest. Some of the agitating members even volunteered self to Sitabuldi police station along with their supporters. The rally culminated at Deeksha Bhoomi in the evening. After overnight stay, the groups would hike towards Wardha all by foot. The leaders will be organizing Satyagraha at Sewagram Ashram on October 2, Gandhi Jayanti.
Though appeal for padyatra was made by Ashish Deshmukh, who has floated his party Youth for Vidarbha, the event was organized by Vidarbha Joint Action Committee – a group of many parties backing Vidarbha. These include Nag Vidarbha Andolan Samiti, RPI (Athwale), Shetkari Sanghatna, Republican Ekta Manch and other individuals supporting statehood to Vidarbha.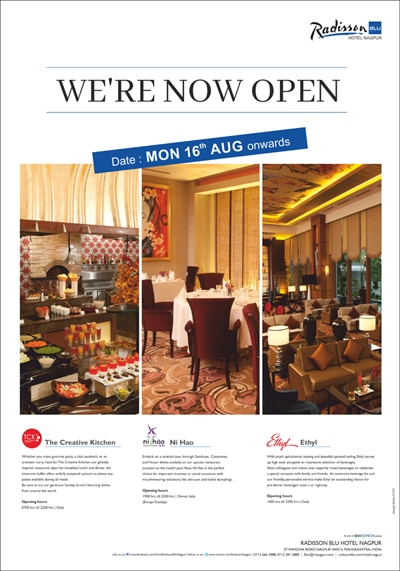 The students, leaders and people all came out willingly. The crowd spiritedly sported yellow caps to stand unity while the patriotic numbers played at DJ sound system in the backdrop. The procession started in the morning at 10 am from Shahid Square in Itwari and reached Deekshabhoomi by the day's end. The rally passed through various prominent areas in the city including Mahal, Chhota Tajbagh, Medical Square, Variety Square and Lokmat Square before reaching Deekshabhoomi.
The rally was led by Deshmukh along with other leaders including Ahmed Kadar from Nag Vidarbha Andolan Samiti, Balu Gharde from RPI (Aathwale), Ram Newale from Shetkari Sanghatna, Bhimrao Phuse and Ghanshyam Phuse from Republican Ekta Manch, former BJP MLA Bhola Badhel, retired DCP Praveen Chakraborty, Rameshwar Mohope and others.
Ahmed Kadar, General Secretary, Nag Vidarbha Andolan Samiti informed that all the members would stay overnight at Deekshabhoomi where arrangements for food and tents have been made. The students and leaders would be marching towards Wardha and cover all 80 kms by foot. "We would organize Satyagraha at Paonar Ashram in Sewagram on the occasion of Gandhi Jayanti," informed Kadar.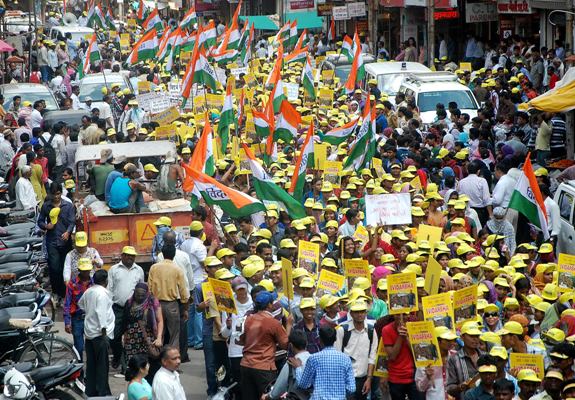 Apathy for Vidarbha
Kadar said that the agitation on the lines of Telangana was required to make the point in support of Vidarbha state. The Nagpur Pact of 1953 has turned out to be an eyewash and there was only option to protest strongly for Vidarbha. He said when Vidarbha was the part of erstwhile CP and Berar with Nagpur as its capital, the region was merged into the state of Maharashtra on the basis of lingual similarity. However the proposal was protested even then, but it was quenched by Nagpur Pact that committed to take extra care of the region in terms of development. But the process worked in strong contradiction of what was promised, he added. "Till date Vidarbha received only assurance while its share of development kept shifting to either western Maharashtra or Marathwada region. Vidarbha has been meted out step motherly treatment right since it was merged into Maharashtra in 1960."
Projects snatched away from Vidarbha
Kadar said the funds for Gosikhurd Project was deliberately deviated towards Krishna Khore Dam project near Nasik in western Maharashtra, leaving the ill fated home project stuck for years. The Medical University which was initially proposed to be set up at Nagpur has now been shifted to Nasik. The proposed Cancer Hospital for Amravati has been taken away and went to Aurangabad. The Orange Procession Centre was meant for Warud near Amravati but consciously moved to Nanded owing to political pressure from a leader in that region.
'80% officers in Vidarbha are from Western Maharshtra'
Kadar claimed that it was surprising to observe that around 80 percent of the total officials serving at top posts in various government departments across Vidarbha are either from Western Maharashtra or Marathwada. "As the local connection was missing, the lack of proper knowhow of the region resulted in underperformance from these officers. As a result we can see the rising crimes of serious nature in and around Nagpur," he said.