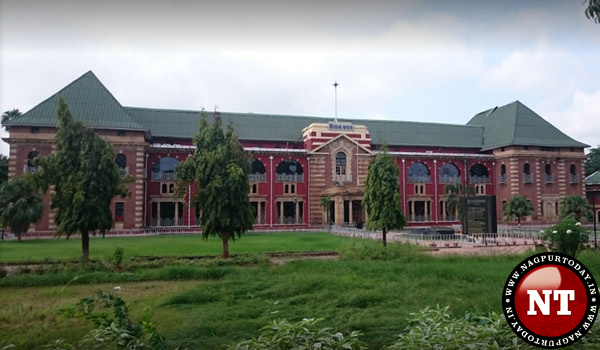 Nagpur: Preparations for Monsoon Session of Maharashtra Legislature, being held in Second Capital City of Nagpur from July 4, are going on in full swing. The government machinery is leaving no stone unturned for ensuring hassle-free session. The work of cleaning and beautifying Vidhan Bhavan, Ravi Bhavan, Nag Bhavan, Raj Bhavan and other buildings has gained momentum.
'Rain proof' arrangements:
According to Met office prediction, the city could be pounded by heavy rains in the month of July. Keeping the rainy situation in mind, Dr Anant Kalse, Principal Secretary of Maharashtra State Legislature Secretariat, reviewed the preparations and directed the concerned authorities to make 'rain proof' arrangements for the Monsoon Session.
Dr Kalse has also directed the Police Department to deploy policemen in sufficient number. This time water-proof tents are being set up for the policemen. There will be sheds in the premises of Vidhan Bhavan. Canopy from the main gate till the Vidhan Bhavan is being erected to ensure nobody gets caught in pouring rain.
Fire incidents due to short circuit or lightning and power cuts could be witnessed during the Monsoon Session. Against that backdrop, Dr Kalse directed the administration to put certain facilities like generators in place to tackle the emergency situations.
A fleet of 200 cars and 200 jeeps would be kept ready as there will be requirement of more manpower. Around 100 vehicles of Ola will be part of session's transport system. Apart from these Ola vehicles, 100 more taxis too will be made available.
Legislature Secretariat in city from June 22:
The office of State Legislature Secretariat will start functioning in Nagpur from June 22. Some Staff from Mumbai Secretariat has already reached the city while others would be descending Nagpur in stages.
6200 policemen for bandobast:
Posse of 6,200 policemen will be deployed during the Monsoon Session. Arrangements for accommodation of cops are being made at Mangal Karyalayas, Sarpanch Bhavan and at other suitable places. The Vidhan Bhavan will have 271 telephones, internet facility. The BSNL officers have been asked to take proper care so that all the telecommunication services are provided uninterrupted. Railways too have geared for the Monsoon Session and will be making arrangements for additional coaches for hundreds of officials and employees coming to Nagpur.
This will be the fourth time that the Monsoon Session of the State Legislature, normally held in Mumbai, is being held in Nagpur, which has been hosting the Winter Session. Earlier, monsoon sessions were held at Nagpur in 1961, 1966, and 1971. As per the Nagpur Pact signed when Vidarbha region became a part of Maharashtra, Winter Session is held every year in Nagpur.