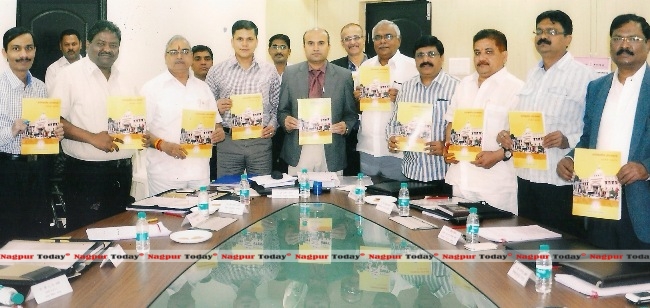 Nagpur News.
The Chairman of Nagpur Improvement Trust, Pravin Darade, today presented  NIT's  Finance Budget,  for the year 2014-15.
He said Nagpur Improvement Trust  (NIT) was formed in the year 1936, for the planned development of  Nagpur.  Its official working started from February 20, 1937.  Nagpur is now turning into a metropolitan city.  Nagpur Improvement Trust has worked ceaselessly for last 77 years for creating basic infrastructure and for beautification of Nagpur city. Looking to the glorious history of NIT, Darade said that he felt glad to present before the NIT Trustees, NIT's  Financial Budget for the year 2014-15 and improved 2013-14 budget figures.
As per new adjustments for 2013-14, total surplus  is Rs 352 crore and 61 lakhs, this includes capital surplus of Rs 106 crore 63 lakhs and revenue surplus  of Rs 188 crore and 05 lakhs, advances and deposits Rs 37 crore70 lakhs.  In 2013-14 capital expenditure was Rs 238 crore 70 lakhs, revenue expenditure Rs 59 crore 32 lakhs and advances and deposits Rs 35 crore 30 lakhs total amounting to Rs 333 crore 32 lakhs are going to be spent on various development works in the current financial year.
For the year 2014-2015 budget figures Nagpur Improvement Trust initial with savings  of  19 crore 28 lakhs total deposit of  Rs 812 crore 59 lakh was expected. The expected  fund includes capital deposit of Rs 506 crore 51 lakh, revenue deposit of Rs 246 crore 65 lakh and advance deposit of Rs 40 crore 15 lakh. Nagpur Improvement Trust is going to spend Rs 806 crore 52 lakh in the year.  After giving various budget figures for the year 2014-15  he gave other details.
He said as more funds are coming to the disposal of NIT, more it is spending on various developmental works of  Nagpur. As per this with the current financial year revised budget and 2013-2014  budget NIT has very ambitious projects which will make Nagpur, a metropolitan city with all advanced aminities. He said it is a surplus budget of Rs 6 crore and 7 lakhs.
In the 77 years of glorious history of NIT like last three years, keeping sight on planned and timely development of city, NIT is going to spend Rs 806 crore and 52 lakhs on the all round development of the Nagpur.
In the year 2014-15, NIT has planned 8-10 Private Public Participation projects, which includes schools, hospitals, cultural halls, houses, airport, play grounds, bus terminal etc. This will add to the all round development of  Nagpur.
NIT has been appointed as Special Planning Authority on August 31, 2010 by a special ordinance. This has widened the scope of NIT, this includes 9 tehsils. Nagpur Metropolitan area includes 726 towns and it has area of 3577 sq.km.
NIT is going to prepare a plan which will boost new industries, new employment opportunities and will maintain the ecological balance.
Keeping in view the fast increasing population and traffic bottlenecks, Nagpur needs safe, speedy and modestly priced traffic system. For such requirement NIT has planned Metro Rail Project and for that NIT has been appointed as Nodal Agency. DMIC has prepared a detailed plan for the project. The metro rail will have 36 stations. The project will be completed in 7 years. The cost of the project is Rs 8680 crore. Nagpur Municipal Corporation is going to shell out 5 pc of the total cost.
NIT has taken special efforts for regularisation of irregular layouts. The special projects and features of the budget are enclosed in the schedule of the budget.
NIT needs to strive hard and make continuous efforts for meeting its revenue  targets.  Pravin Darade said that he needs co-operation from all quarters for meeting its targets and hoped that the trustees and all other  advisors will co-operate and guide for this.
PDF – Click to download – NIT Budget 2014 – 15