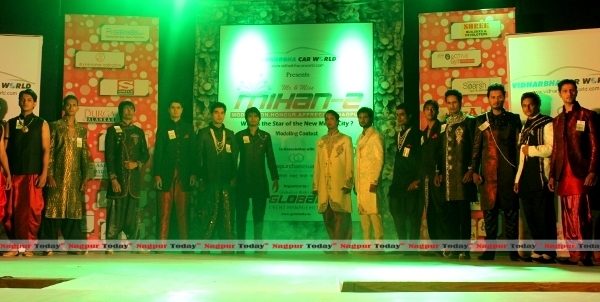 Nagpur Today.
It was sure a prominently 'go traditional' fashion show! Though the western wears were none less! The opulent atmosphere, mood music and richly colored backdrop fall evident at the Mr and Miss Mihan contest hosted by Firoz Alam.
Mr and Miss Mihan season 2 was on demand got organized as a part of pulling the hidden modals of Nagpur into an exposed aura. The show surrounded a concept of traditional and western themes. The final participants consisted of 18 girls and 20 boys, who dressed and walked on the ramp leaving a feeling of normality behind, and appearing none less than professionals.
The customary chaotic backstage was some fun to watch though! The group of young girls on one hand was seen rushing from their dressing room; a few others sat quietly waiting for their turn to grab the limelight. The designer dresses by Pravin Melwani got flaunted throughout the event.
A few even carried glimpse of nervousness on their made-up faces, but the spotlight pour it all out and confidence ruled their swagger!
The winners of the title were Prachi Bahadure and Sparsh Thakur who thanked one and all for all the greeting and congratulations who wore the title bagging price money of Rs 11,700 along with a photo-shoot done at Mumbai.
PICS BY : Vinay Thorat