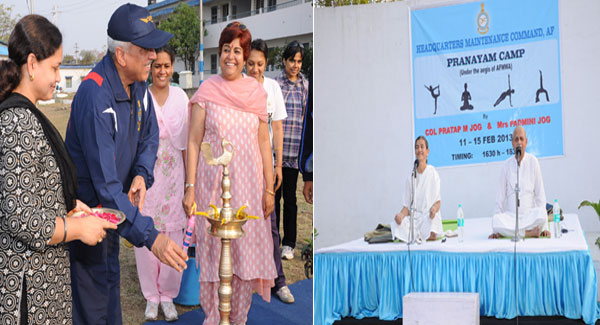 Nagpur News : A  Pranayam Camp for the personnel and their family members was organized at Maintenance Command, Vayu Sena Nagar from 11 February to 15 February 2013 under the aegis of Air Force Wives Welfare Association. Air Marshal Jagdish Chandra PVSM AVSM VSM ADC Air Officer Commanding – in -Chief Maintenance Command and Mrs Sharmila Chandra, President, Air Force Wives Welfare Association (Regional) inaugurated the camp by lighting the lamp on 11 February 2013.
Colonel  Pratap M Jog ( Retd) and Mrs Padmini Jog taught the techniques to perform the various asanas of Pranayam to the participants in a very simplified way. Colonel Pratap M Jog and Mrs Padmini Jog are trainers of high repute and have trained more than 80,000 people associated with various defence and civil organizations.
During the camp, Colonel Pratap M Jog and Mrs Padmini Jog elaborated the concept of Pranayam which not only brings power and peace to a person but also helps to improve efficiency and immune system to lead a healthy and stress free life. All the personnel, Sanginis and children of Vayu Sena Nagar attended the camp with huge enthusiasm with a resolve to bring a change in their perception of life by way of Pranayam.
The camp ended on 15 February 2013 with a grand function held at the venue. A few participants shared their views about the positives of having attended the camp and how they aspired to use the experience to their advantage.