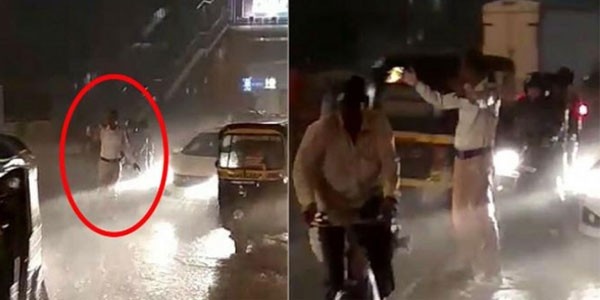 Mumbai: A the heavy rains lashed Mumbai on Monday, praise in hundreds also poured on a traffic cop who controlled the traffic unmoved for over two and half hour without raincoat and umbrella.
Video of the traffic policeman wherein he can be seen controlling traffic without an umbrella or a raincoat during heavy rainfall on Monday have gone viral. The videos show traffic moving smoothly with the help of the policeman's directions. One of the passerby clicked the video.
The 'hero' traffic cop has been identified as Nandkumar Ingle (47) and was on duty in Akurli area of Kandivali East. Suddenly, Mumbai witnessed heavy rain showers in the evening, just as everyone was winding up at work and leaving for home. Wind was so strong that barricades below Skywalk were uprooted. But Nandkumar stood his ground and controlled traffic drenching.
When Nandkumar came to know that the video of his job had gone viral, said "When it started raining heavily, I didn't had time to wear raincoat. I handed over my wallet and mobile to the Warden and asked him to cover properly. At that time, hundreds of vehicles were on the road at Akurli. Had I gone to other place, it would have been chaos on the road.
It is routine in Mumbai when it rains– the roads get flooded, traffic gets slower and there is chaos all around.
It was perhaps because of this brave policeman, that the traffic flowed in a continuous and smooth manner. Inspired by Ingle's dedication, the passerby recorded his video and posted it on social media. Soon enough, people started appreciating the hardworking cop and the video went viral.