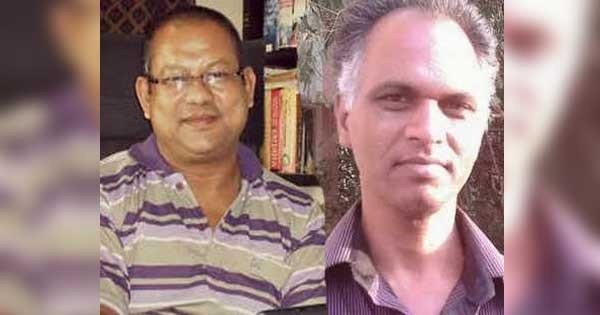 Nagpur: Various organisations of lawyers strongly condemned arrests of Adv Surendra Gadling, Mahesh Raut and Prof Shoma Sen by Pune police in connection with Bhima Koregaon riots. "The revengeful arrests are nothing but 'State Terrorism,' the organisations stated and demanded their immediate release.
The Indian Association of Peoples' Lawyers (IAPL)and other organisations including Democratic Advocates Association for Constitutional Action (DAACA), Sangharsh Wahini Bhatke Vimukt Sangharsh Parishad (SWBVSP) jointly held a press conference at Ravibhavan on Wednesday and strongly condemned the arrests of Adv Gadling, Prof Sen, Mahesh Raut, Rona Wilson, and Sudhir Dhawale and demanded their release.
The activists namely Ratinath Misha, Adv Anil Kale, Adv Sanjay Patil and others said that the Bhima Koregaon riots were pre-planned. The two key accused of the riots Sambhaji Bhide and Milind Ekbote have links with RSS. To save them, the State Government linked the Elgar Parishad with Naxalites and arrested Adv Gadling, Prof Sen, Raut and others. "The State Government was arresting the people associated with Elgar Parishad and accusing them of having Maoist links. "This is being done to shield Sambhaji Bhide and Milind Ekbote. These arrests are in the face of the mass demand of several political parties and human rights organisations and activists and Prerna Abhiyan in particular to arrest Bhide and Ekbote, who were responsible for the violence at Bhima-Koregaon," the activists stated.
Dinanath Waghmare of SWBVSP, Wahid Sheikh of BKSPA, S P Tekade of IAPL, Adv Jagadish Meshram and Adv Vikrant Narnaware, both juniors of Adv Gadling, were also present at the press conference.
The activists further said, "These arrests and raids have been made based on the FIR registered on January 8, 2018 in Pune following the large scale protests held against the attacks on the Bhima-Koregaon commemorative function on January 1, 2018. These attacks were instigated by leaders of RSS-linked organizations, Sambhaji Bhide and Milind Ekbote. The State Government, instead of punishing the actual perpetrators and instigators of the Bhima-Koregaon violence, has been trying to pin the blame on organizers of the commemorative function. It is utterly condemnable that the Maharashtra government has charged activists and lawyers with Unlawful Activities Prevention Act (UAPA) under these false charges while the actual perpetrators of the violence are roaming around freely. This is State Terrorism," they said.
"We strongly condemn this highly anti-democratic and repressive action of the Maharashtra Government and the complete violation of all constitutional norms by the State and the Central governments and demand the immediate release of Adv Surendra Gadling, Prof Shoma Sen, and Mahesh Raut," they demanded.