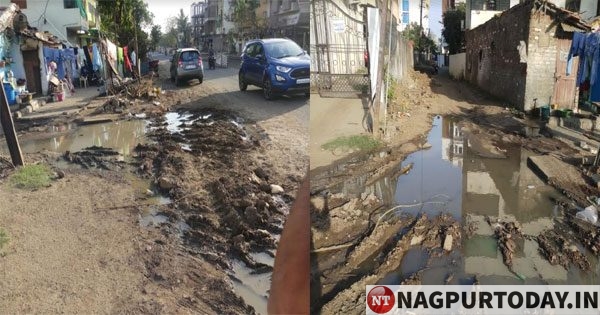 Nagpur: The Mayor Nanda Jichkar, in a meeting held the other day at NMC Headquarters in Civil Lines, had said that Swachh Bharat Mission has given importance to cleanliness in the country and had directed the NMC officials to take this cleanliness drive seriously.
All said and done, but will the Mayor take some time and see for herself the condition of her own Prabhag? This Prabhag 37 is an eyesore to the residents. There are several places where garbage, ponds of dirty water make a common sight. Garbage and filth is dumped in open plots. If the Mayor, who is First Citizen of the city and rules Nagpur Municipal Corporation, fails to maintain cleanliness in her own Prabhag then to whom would the common people look to for redressal?
In Subhash Nagar, Nelco Housing Society Road in the Mayor's Prabhag, filthy water is accumulated in potholes on a long stretch of road opposite Indian Overseas Bank. A spate of complaints lodged with Laxmi Nagar Zone Junior Engineer Suradkar fail on deaf ears. No remedial action is being initiated to get rid of the dirty water and the potholes.
The other day, an unwary two-wheeler rider, resident of Subhash Nagar, Nelco Housing Society Road, failed to spot the potholes brimming with dirty water and met with an accident as his moped skidded and he crashed on the road. The outcome was fracture in his leg and some injuries. The victim man now could be cursing voting to Nanda Jichkar who went on to became the First Citizen of Nagpur but neglecting her own Prabhag! The 'busy' Mayor has hardly any time to keep her own Prabhag in order.
Is the Mayor or First Citizen of Nagpur Nanda Jichkar listening the disgruntled voice of residents of Prabhag 37, her very own?