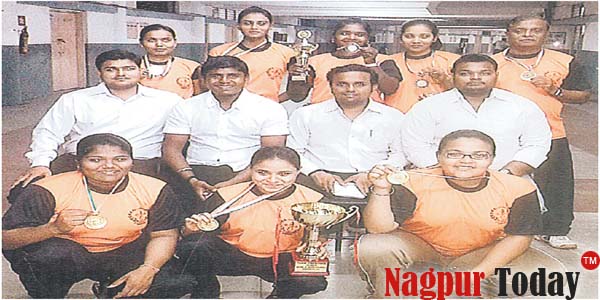 Nagpur News: Vidarbha women bagged team championship in recently held National Bench Press Powerlifting Championship at Jamshedpur.
The team als bagged best disciplined team prize by winning seven medals including three gold, informs general secretary of Vidarbha Powerlifting Association Prof. Shrikant Warankar.
Budhana's Pooja Kene, Deepali Devkar and Samruddhi Zamre clinched gold medals while Wardha's Rasika Bangale Jayashri Sawle won silver. Priyanka Ghote and Chandrapur's Darshana Fulzele secured bronze medals.
In the masters category, Arun Deshpande clinched gold. In all 32 powerlifters from Vidarbha participated in the team and they were trained by Suryakant Umbarkar, Amol Satpute and Amol Uadhyay. Anand Dabre was the team manager.
President of Vidarbha Powerlifting Association Baba Dawre, Dr Chandrakant Raghtate, Hemant Dongaonkar, Nilanjan Bhattacharya, Vijay Ghate, Parag Pathak, Sachin Mathne and Laxmikant Meshram have congratulated the players for their outstanding performance.