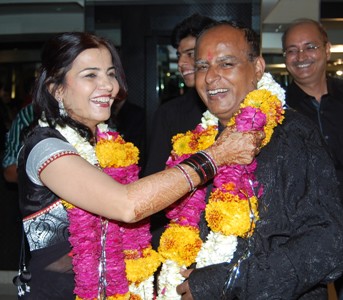 "25 years have been great but everyday it's a new beginning", says Anu Verma who celebrated her 25th wedding anniversary with her beloved hubby Mohan Verma at Darshan Towers.
Isha, Surabhi & Dipanshu were real excited to see their parents exchanging garlands and rings all over again.
Anu Verma who is from Delhi, shared with Nagpur Today how she met the man of her dreams."He had come down to delhi with his parents to see a girl but then he saw me at my sister's wedding and we started talking and then on 27 June 1987 both the family officially bonded into a relationship when the 'Roka' happened. In Punjabis, the moment Roka has been done, the house turns into a marriage house till the last day of 'Bidai'. So after 8 months of wait, on February 27, 1988 we tied the knot and we are still going strong", said Anu Verma.
On her Uncle's wedding anniversary, Sonia Malhotra said, "They both are opposites yet they make a perfect couple."
In the celebration, the whole Verma family and close friends were present where Anu Verma's mother & members of
Chaudhary family specially flew from Delhi to grace the occassion.
An overwhelmed Mohan Verma said, "25 years badhiya rahe. No problem at all".
Nagpur today wishes the couple many years of togetherness.
Yash Raj Trivedi