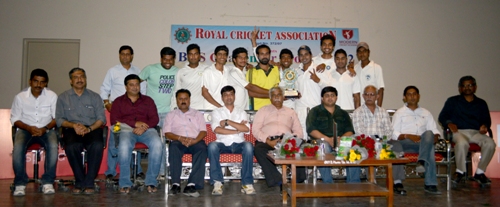 Porwal C. C. defeated S.E.C. Railways by 20 runs in the final match of BCS Challenger Cricket tournament organized by Royal cricket Association here at the Gurunanak Pharmacy College ground.
Winning  the toss Porwal elected to bat scoring 142 runs for the loss of  9 wkts in their stipulated 20 overs;  Alok Tiwari stiched a composed innnings of 79 runs, ably supported by Tauseef Ahmed 27 to reach the total.
For S. E. C. Railway – Ravi Jangid sclapped 3 wkts while Chandrashekar Atram & Lokesh Chikle sclapped 2 wkts each.
Needing  to score 143 to win, S.E.C. railway managed to  scored 122  runs as they were bowled out  in 19.4 overs, Pralad Rawat was the lone fighter with 44 runs. For Porwal – Alok Tiwari started with a fearsome first over picking 3 wkts and 4th wkts in the next over shattering the Railways batting order; Mohtashim Ansari took 3 wkts while Rajnis Gurbani took 2 wkt for the winning team.
VCA Vice President Adv. Adwait Manohar was the Chief Guest for the Prize distribution which was witnessed by Mr. Nitesh Upadhyay, Chairman District Cricket Committee; Dr. Abhay Ittarwar, Principal Gurunanak Pharmacy College; Mr. Ashish Bhasmey, Dealer Hiaer Appliances India; Mr. Vinay Amrite, Chairman Women Cricket Committee; Mr. Rajan Nair, Mr. Sameer Rangoonwala, President RCA, Mr. Asif Rangoonwala V.P, Mr. Irfan Razzak, Secretary RCA endorsed the Prize distribution function.
The Man of the Final was won by Mr. Alok Tiwari (79 runs, 4 wkts), Mr. Samitin Bhattacharya (225 runs) was adjudged the Best Batsman & Man of the Series of the tournament; while Mr. Durgesh Jeswani (106 runs, 13 wkts) was adjudged the Best Allrounder for the tournament.
The cash prizes were sponsored by Hiaer Appliances India and Winner, Runner-up Trophy by Amar Sports Nagpur.
Adv. S. F. Rezvi, Convenor Royal Cricket Association conducted the program and thanked VCA for the support, the Umpires for their efforts, the participating teams and all dignitaries present in the program, Mr. Asif Rangoonwala, V.P of RCA proposed the Vote of Thanks.