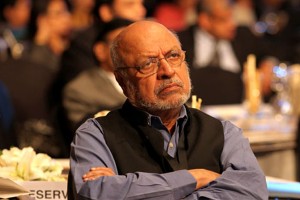 Veteran and unparalleled film maker Shyam Benegal, recognized well for this masterpieces like Mandi and Ankur stands truly liberated from the box office performances of the movies and even denies accepting the films' collection as the parameter of its quality.
"Popularity does not indicate that a film is good. It just shows that it is popular. It does not indicate anything else," Bengal saidon Thursday at a press conference in Mumbai to launch a month long festival dedicated to his films on Zee Classic. A film's objective is decided by its director, he said.
"The film that one makes is based on the director's perspective. What he wants from the film is very important. If he wants popular success at the cost of everything, then he will make a certain kind of film," he said.
Known for working with seasoned actors like Shabana Azmi, Smita Patil, Benegal regards stars as "magnets" who can pull the audience to the theatres.
"A star is like a magnet who pulls an audience. They help subjects, which otherwise might not interest the audience," he said.
"Dyslexia, a subject shown in Aamir Khan's 'Taare Zameen Par', might not have many films made on it. But it worked when a well-known star acted and presented it," added the National Award winner, who teamed up with mainstream stars like Karisma Kapoor and Rekha in 'Zubeidaa'.
He further added that not all stars use their image to promote such subjects through their films.