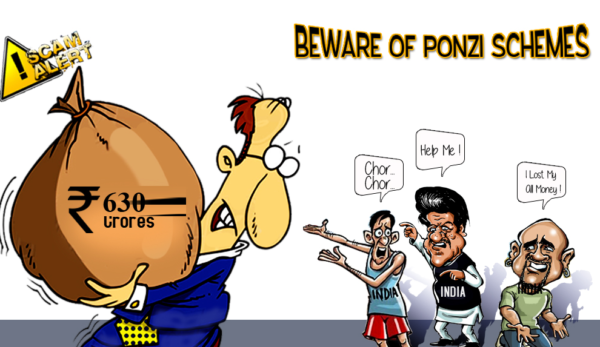 Nagpur: The Ponzi schemes luring investors of astronomical returns wreaked havoc in Nagpur city. The evil-minded fraudsters who promoted ponzi schemes robbed Nagpurians of whopping Rs 633 crore in last 10 years.
The appalling information was revealed by office of DCP (Detection) in an RTI reply to a query posed by activist Abhay Kolarkar recently.
The RTI reply further divulges that the Economic Offence Wing (EOW) of Nagpur Police registered offences against the 'white-collared' accused persons and succeeded in seizing Rs 227 crore from them. As per information, the masterminds of ponzi schemes robbed several Nagpurians in the past 10 years by promising astronomical returns on their investments. Record shows 178 cases of Ponzi frauds were registered. This includes 86 cases of more than Rs 50 lakh amount. In all 115 accused were arrested in these cases.
The year 2014 witnessed the biggest ponzi scam in city as gullible investors were robbed of their sweat money to the tune of Rs 234 crore. The year 2013 followed suit with fraud of Rs 150 crore. The police had registered case of Rs 9.47 crore fraud in the year 2009, Rs 14.70 crore in 2010, Rs 48.29 crore in 2011, Rs 27.48 crore in 2012, Rs 19.81 crore in 2015, Rs 89.61 crore in 2016 and Rs 65.47 crore fraud in the year 2017. In 2018, cops have registered case of Rs 93 lakh fraud.
The police also seized the varying amounts of money from the promoters of ponzi schemes. An amount of Rs 4 crore was seized in 2010 while Rs 5 crore were seized in 2011 and Rs 6 crore in the year 2012. The maximum Rs 110 crore were recovered from the scamsters in the year 2013 followed by Rs 53 crore in 2014 and Rs 52 crore in the year 2017. In 2015, Rs 3 crore were seized from the scamsters.
The RTI reply further revealed that 23 accused, the maximum, were arrested in the year 2015. Similarly, in 2016, 18 accused were sent to jail.
The Second Capital City of Nagpur has attained the murky tag as city of financial scams as alarming number of gullible investors lost crores of rupees into the lure of money multipying ponzi schemes. The last 10 years witnessed a flurry of investment scams five of which jolted the trust of citizens. The investment scams that grabbed headlines include Wasankar Scam, Mahadeo Land Developers promoted by Pramod Agrawal, Shree Surya Scam, Jhamre couple fraud and Raviraj Group scam.