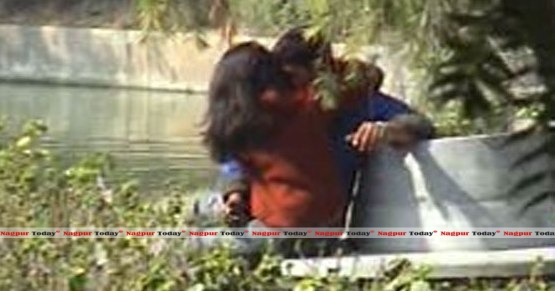 Nagpur News.
Come Valentine's Day and the blaze of opposition gushes wherever the air of love flows. The political outfits like Shiv Sena and Bajrang Dal have been the contemporary opponents to the celebration of love and as the traditional gesture every year before Valentine's Day, this year too Shiv Sena has rung warning bells for all those who are set to flow their love openly and freely. However, adding twist to the scene, Maharashtra Navnirman Sena has shown its romantic side and signaled okay signs to the love birds. Moreover MNS went on to pull both Shiv Sena and Bajrang Dal, saying both are out to create scene to gain cheap publicity. More surprising is the fact that Yuva Sena, youth wing of Shiv Sena has decided to refrain from any protest rally or bothering lovebirds on V-day.
Talking to Nagpur Today MNS District President Kishore Saraikar said that the Valentine's Day opposition that comes from Shiv Sena and Bajrang Dal is nothing short of political stunt. He minced no words as he expressed support to those in love. He said, "We are not opposed to any clean celebration of love but we request all to celebrate this festival of love without mixing vulgarity and obscenity into it."
However Bajrang Dal too has rectified its tone saying that their party opposes obscenity not love. The party was of the view that presently vulgarity and nudity have become the parameters of love.
Shiv Sena city unit president Suraj Goje said like every year they loud protest against blindly following western culture. He said, "We request all the young boys and girls to refrain from observing such a day which is threat to Indian culture. If anybody found indulging in such indecent display of love, we will get them to their parents and make them understand our way."
Shrikant Aglawe, office bearer of Bajrang Dal and Vishwa Hindu Parishad said they had taken up indicative rally throughout Nagpur to alert young boys and girls about spreading indecency at public places.
Hitesh Yadav, District President of Yuva Sena and Akash Sarode however made the submission quite contrary to its parent wing Shiv Sena. He said Yuva Sena President Aditya Thakre has issued clear instructions to maintain peace and avoid creating any scene out of the day. Sources revealed that Yuva Sena has switched its strategy this year and changed the tone unlike last year to secure soft corner among the youth.