Nagpur News: Police have launched a manhunt for the owner of the Skoda car in which a 9-year old boy was found dead mysteriously on Tuesday (October 1). At present, police are groping in the dark over the boy's death and the owner of the car, too.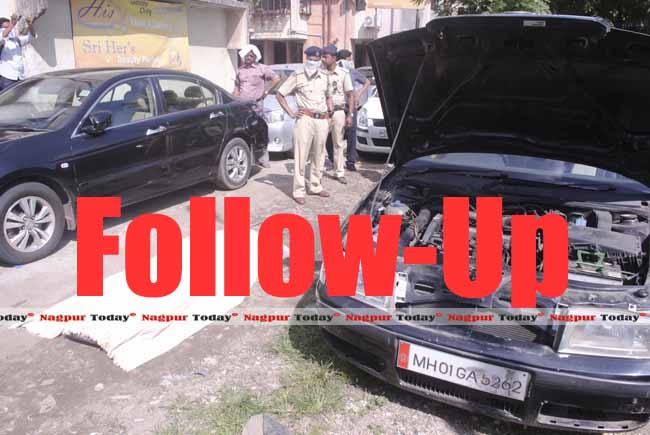 According to sources, the car had come from Bhopal to Nagpur's Sudarshana Garage for sale. The day the Skoda car had come to Sudarshana Garage, dozens of other cars, too, were brought to Garage for sale. The registered number plate of the Skoda car (MH-01/GA 5262) points out the passing of the car  from Mumbai. The car was brought to Sudarshana Garage 15 days ago. This is the same car in which the highly decomposed body of 9-year old boy Umesh alias Baburao Gupta was found. Umesh, son of Mehilal Gupta, resident of Vasantrao Naik Slums, was missing since past 4 days. The CCTVs in the area are showing Umesh alias Baburao entering the car alone. However, police are not finding answers to some questions: Why the car door was kept open? Why the security guard did not stop Umesh from entering the car? And most importantly, why Umesh entered the car at all? Police might find the answers to these questions during the course of the investigation.
It may be recalled, body of Umesh was found in the Skoda car in the premises of Mhada Quarters in Civil Lines in the highly decomposed condition. When one of the workers of the Sudarshana Garage arrived for duty he was gripped by unbearable foul smell. When he opened the door of the car, he found the body of Umesh at the space under the steering wheel. He immediately informed the police. DCP Kailash Kanse, ACP Sunil Jaiswal, PI Bernekar, PSI Geete, and other policemen reached the spot. After completing the paperwork, police sent body of Umesh for post-mortem.
Umesh was Class IV student of Sitabuldi-based Dheeran Kanya Vidyalaya. Father of Umesh, Mehilal Gupta, is originally native of  Uttar Pradesh and runs the business of "Pani Puri" in Sitabuldi. Mother, Usha is housewife. Umesh was the youngest sibling of Mehilal with another son Ganesh and daughter Soni. Umesh had gone to play at the nearby Hislop College ground at about 4.30 pm on Saturday and since then was missing. Vasantrao Naik Slums, where Umesh resided, is infamous for criminal activities, and might have been kidnapped and eliminated over some rivalry or, Umesh, after entering the car might have trapped inside following automatic locking of the car.
All these rumours have been taking rounds but only the police investigation would reveal the truth.