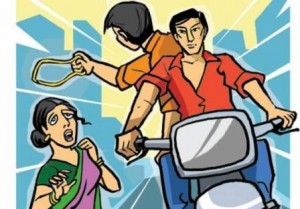 Nagpur News: The frequent yet sporadic cases of chain- snatching turned out to be a part of an organised criminal nexus between the snatchers and certain sarafa traders in the city, who bought the snatched chains and jewellery and sold them for a profit.
In the first ever case of a police investigation against sarafa traders, Hudkeshwar Police have arrested traders and members of chain snatching gangs, including Bharat alias Bunty Uday Rao Galgala, Sachin Harihar Peshwe, Chetan Balwant Thakre and Lokesh Bhonde. Stolen jewllery worth Rs. two lakh, forty thousand have been recovered from those arrested.
The rising cases of chain- snatching in Nagpur have kept the city police on its toes for the past few months. Women in different areas of the city have been falling victim to chain- snatchers, who have slowly been creating a sense of tension and apprehension among city pedestrians.