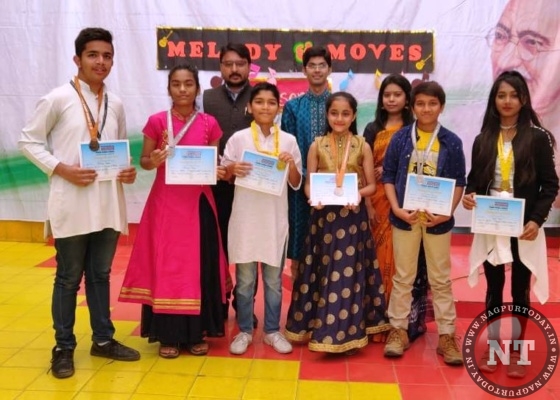 Nagpur: An inter-house singing and dancing competition "Melody and Moves" Season-6 was organized by Podar World School at its premises recently organized. It was a spectacular celebration, delightful medleys of foot tapping music. The young and enthusiastic students participated in event.
The students, with their brilliant talent, showed that the great singers and dancers are not great because of their technique; they are great because of their passion. The students presented various ragas in vocal classical style. The passion and enthusiasm with which the students participated left everybody spellbound. The young aspiring singers rendered ragas like Bhupali, Vrindavani Saarang, Durga and Yaman in their soulful voices, captivating the audience.
In the Dance category, students from all four houses, Seva, Satya, Ahmisa and Adarsh presented the Lavani, Ghoomar, Free Style, Robotic forms. The hall resonated with spirited rhythm and song, setting an electrifying ambience of a country where folk fervor is fittest.
The contestants enthralled the audience with their well choreographed performances. For the "Season 6 of Melody and Moves," the Sa-Re-Ga-Ma-Pa fame Niranjan Bobde and Indian Classical dance expert Pooja Hirwade were the judges. The winners of Moves are Alfiya Khan, Saksham Shukla and Dhwani Joshi. In Melody, Vedant Diwate, Ahana Kapse, Vrishik Jasani were adjudged as winners. The winners were awarded with merit certificates. The whole event was conducted under the guidelines of Principal Yogendra Katare The Chairman of the school Raghav Podar, the Principal Yogendra Katare, Head Mistress Bhavana Dixit, congratulated all the students for their outstanding performance.