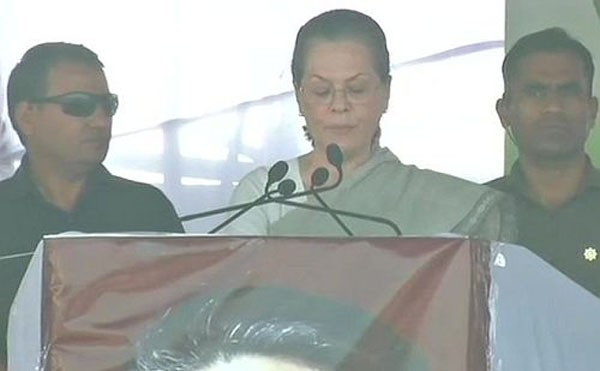 Bijapur: Almost two years after abandoning her poll campaign midway in Varanasi, UPA chairperson Sonia Gandhi hit the campaign trail in Karnataka today addressing a public rally in Bijapur.
"Congress has worked for the development of Karnataka and you must know that the central govt is working in a biased manner when it comes to Karnataka. Congress made Karnataka the country's number 1 state and started numerous schemes for people.
"Standing by each other and working together, that is the essence of Karnataka and of India.
"We have worked tirelessly for the poor. We started the Mahatma Gandhi NREGA scheme which was objected to by the BJP and by Modiji.
"The farmers of Karnataka have been suffering due to drought. Your CM Siddaramaiah wanted to meet the PM over these issues but he refused. By doing this he has insulted not only the farmers but also the state of Karnataka.
"All states that suffered drought were given compensation (by the centre), Karnataka was provided with the least, this was like rubbing salt into the wounds of farmers. I ask Modiji, is this your 'sabka-saath, sabka-vikas?
"Modiji is proud of the fact that he is a very good orator, I agree with this. He speaks like an actor. I'll be happy if his speeches can end hunger of the country but speeches cannot fill empty stomachs, food is needed for that.
"Modiji par Congress mukt bharat ka junoon hai, unhe iska bhoot laga hai, Congress mukt bharat toh chhoriye, vo apne saamne kisi ko bardaash nahi kar sakte. Wherever Modi Ji goes he says wrong things and distorts historical facts. He uses the names of heroes from our history for his political motives."