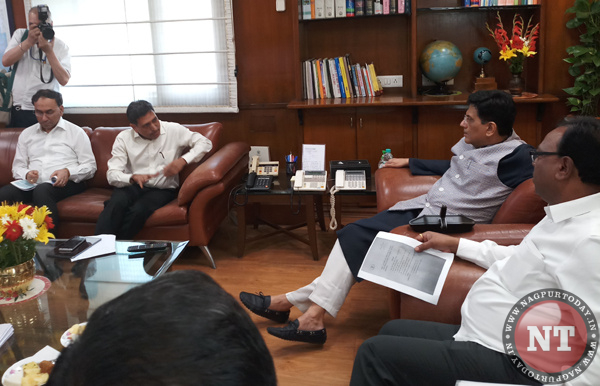 Nagpur: Minister of Coal Piyush Goyal directed Western Coalfield Limited (WCL) administration on Wednesday to supply coal stock of 15 days to every power generation stations of Mahagenco in state. He directed WCL at a meeting today held in presence of Energy Minister Chandrashekhar Bawankule.
The WCL administration showed its readiness to supply coal to Mahagenco as it has enough coal stock. Minister of Coal Piyush Goyal held a meeting in New Delhi with the higher officials of WCL. Energy Minister Chandrashekhar Bawankukle, Mahagenco Managing Director Bipin Shrimali, MP Krupal Tumane, Director Shyam Wardhan were present at the meeting.
The Coal Minister directed the railway administration to complete Kalamna loop work within a months time.
Since there is just one truck there is problem of coal transportation and the chord Line work is also remaining. The work has been completed till Godhani and instructions have been given to complete the work on war footing. Since there is a great demand for power from April to June, taking a note of this the railway administration, coal companies and Mahagenco should hold a joint meeting and decide about the requirement of coal, the ministerv said
Coal Minister Piyush Goyal has also given instructions to Coal Company and railway to supply 20 lakh metric tonne coal within these 15 days to Mahagenco.
Besides this Chandrashekhar Bawankule discussed with Piyush Goyal the review of Saoner development, WCL reservation, the coal mines to be closed, Bhanegaon Bina rehabilitation, applying old rules to the lands acquired before the new law, compensation to farmers for land, WCL land for Umred 660 megawatt project, constructing ponds for fisheries, review of Sai Mandir Kamptee Cantonment's to be developed as tourist spot etc Coal Minister Piyush Goyal took a positive note of all the things.