Picture of Munna Yadav spotted at Koradi temple gets viral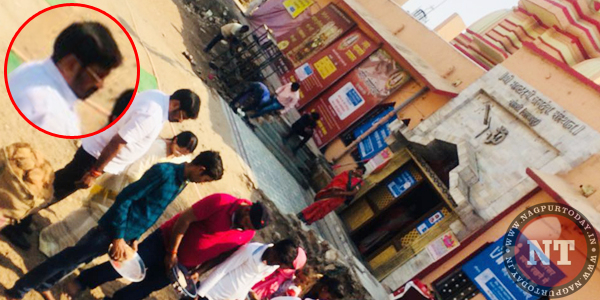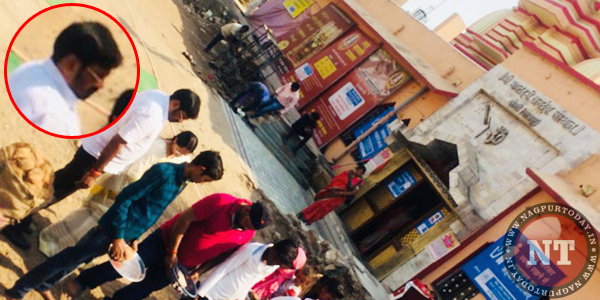 Nagpur: The absconding BJP leader and chairman of Maharashtra State Construction Workers' Welfare board Munna Yadav, who was booked in an attempt to murder case along with her sons Karan, 22 and Arjun 19, has been reportedly spotted in Koradi temple on Tuesday. A picture of Munna Yadav performing some puja at Koradi temple along with his family members is currently getting viral on social media. Nagpur Today could not confirm whether this picture was of Tuesday or some old one, but it is breaking the internet for now. The picture is being flooded with comments raising question over functioning of police. The users are alleging foul play on the part of police who have been on the hunt of Munna Yadav for last couple of months.
Meanwhile, the police are also trying to ascertain the date of this picture. If the picture turns out to be of Tuesday then it would be a big blow to Nagpur police.
On October 21, 2017, both Munna Yadav and Mangal Yadav's gangs clashed with each other in Chuna Bhatti area. Police sources said that on October 20, Santosh Yadav, the son-in-law of Mangal Yadav visited his in-laws at their house.
At that time the relatives of Munna Yadav allegedly threw stones at his vehicle. Next day Mangal's sister Manju Yadav came to her in-laws' home and at 9.30 am when her kids were playing in the courtyard, Munna Yadav's son Karan was busy bursting the crackers. As her children were also playing around, Manju asked Karan not to burn crackers.
This led to a verbal spat between the two. Meanwhile Manju's mother Krishna Yadav also reached there and tried to intervene but the fight was escalated by then.
Soon Mangal's brother Gabbar Yadav also reached there. Munna Yadav, his son Arjuna, Bala Yadav's wife Laxmi also followed to the spot and reportedly attacked Gabbar and Manju with iron rods, swords and bricks.
Later Manju immediately called Mangal and Papa Yadav. Mangal then rushed to the spot with his son Sagar, brother Papa and friend Anis Mudliar.