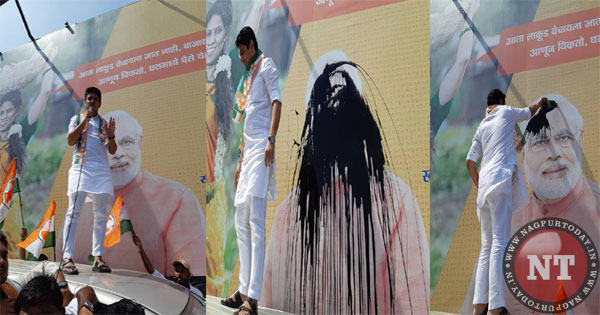 Nagpur: The Maharashtra Pradesh Youth Congress (MPYC) on Thursday staged a state wide protest in all districts against the rising fuel prices. The MPYC President Satyajeet Tambe who had given call for the protest, slammed the BJP-led Government in State and Centre for fuel price rise. Cops arrested some Youth Congress office bearers during the protest.
"The present government has looted the taxpayers of the nation time and again by increasing Central Excise duty on Petrol and Diesel 12 times since May 2014 and also the Customs duty on Petroleum Products has been increased manifolds. The Government has increased Central Excise duty on Petrol by 211 percent and on diesel by 443 Percent.
Apart from this there are several other additional taxes being imposed by State Government on Petrol and Diesel resulting the prices skyrocketing and the common man is suffering . In 2014 international crude oil prices were to the tune of 107 USD Per Barrel and present prices are 73 USD per barrel.
Average Crude Price for 52 months is 50 USD per barrel i.e. 55% lesser than the prices during the UPA tenure still the Petrol and Diesel prices continue to skyrocket during the Narendra Modi Government," Tambe said and demanded that the Petrol and Diesel and LPG should be brought under the ambit of GST Regime so that there is one tax on fuel across India.
The MPYC President Satyajeet Tambe himself took part in the demonstration in his home district Ahmednagar at Sangamner along with many Youth Congress Office bearers and as a mark of anger inked the face of Prime Minister Narendra Modi with black colour on the hoarding that was placed on the petrol pump.