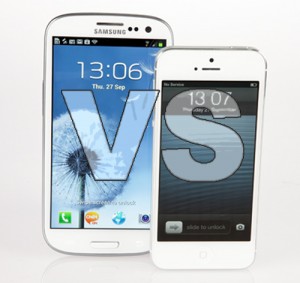 Phone 5 vs Samsung Galaxy S3 – Design, Screen and Power
The iPhone 5is here, and selling by the million. As expected, it features a larger screen, a faster processor and a slightly-improved camera. But the real question is – which one should you buy, the iPhone 5 or the Samsung Galaxy S3?
We've taken a look at the features of both phones, put them in the ring and told them only one is coming out alive. Here's how they fared…
UPDATE: Two months on…
We've spent a good old while with these two phones, and have come to some conclusions about which is right for you. Below you'll find the same old specs comparisons if you want in-depth technical info, but here's what they're actually like to use.
Firstly, the difference in feel, thanks to the metal and plastic finishes respectively, soon fades away – more so than with the previous iPhone 4S. It's down to the type of metal used in the iPhone 5's construction. The new iPhone is made of aluminium, and it feels so very light that it doesn't quite have the solidity of the previous-gen models. A bit like a size-0 model, the iPhone 5 is teeny but it doesn't quite feel as healthy as some of the old phones.
Conversely, you get used to the plastic bod of the Samsung Galaxy S3 after just a short time. Quite how lightweight its plastic armouring is only becomes apparent when you take the battery cover off. And who really does that too often?
The adaptability of us humans makes us get used to things terribly quickly, and it helps on the screen front too. Upon first getting hold of the Samsung Galaxy S3 it felt that bit too big, but two months on it just doesn't. We even got used to the 5.5in pretty quickly.
However, if you have small hands you should definitely take note of the size issue. Even adaptability has its limits.
The giant screen of the Samsung Galaxy S3 makes it our top choice for web-browsing. With a screen this big, this high-resolution, there's so need to even thing about using mobile sites any longer. On this front, the Samsung Galaxy S3 has the edge over the iPhone 5.
On the fun front, though, the iPhone 5 has this argument on lock down. With such a healthy games and apps ecosystem, we found that we downloaded far more games with the iPhone 5 than the Samsung Galaxy S3. Yes, we spend more money but had more fun (or wasted more time) in the process.
If either gaming or web browsing are your key priorities, the choice seems a fairly easy one. Have other priorities? Check out the rest of our comparison below.
Release Date and Sales
iPhone 5 – Available now
Samsung Galaxy S3 – Available now, unveiled May 2012
The iPhone 5 is out there. Early supply issues meant that demand oustripped supply, but looking at the numbers it's no surprise. The iPhone 5 sold five million units in its first weekend on sale, and two million in its first 24 hours.
The Samsung Galaxy S3 has already been released, of course, and has done extremely well in its short time on this Earth. Back in July we heard that the phone had already broken through the 10 million sales barrier, making it a faster seller than either of its predecessors, the original Galaxy S and the hugely popular Galaxy S2.
By the end of 2012, analyst predictions suggest the iPhone 5 will sell around 26 million units. Samsung's own JK Shin has said he expects the Samsung Galaxy S3 to sell 30 million by the end of the year. Let's not forget that the Samsung Galaxy S3 has been on sale for a lot longer, though.
Design
iPhone 5 – 7.6mm thick, metal casing, non-removable battery
Samsung Galaxy S3 – 8.6mm thick, plastic casing, removable battery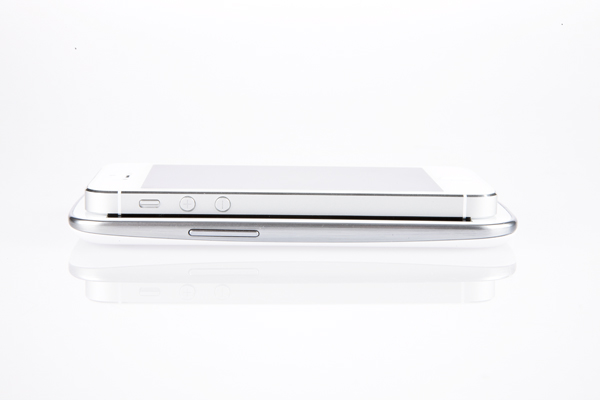 Apple has taken aggressive measures to make the iPhone 5 as thin as possible. The rear layer of glass has gone, the phone uses a teeny nano-SIM and the screen technology merges its constituent layers to squish everything down as far as possible. As a result it's just 7.6mm thick, a full millimetre less than the Samsung Galaxy S3 – which is 8.6mm thick.
It's extremely impressive, and Apple has also tweaked the design of the phone to make it feel a bit less severe in the hand, despite being mega-thin. Its edges are slightly bevelled, rather than stepped, so it feels little more… hand-friendly. You still might want to grab a case for the utmost in hand comfort though. Crucially, the new etched aluminium back is much less slippy than previous versions and build quality is exceptional.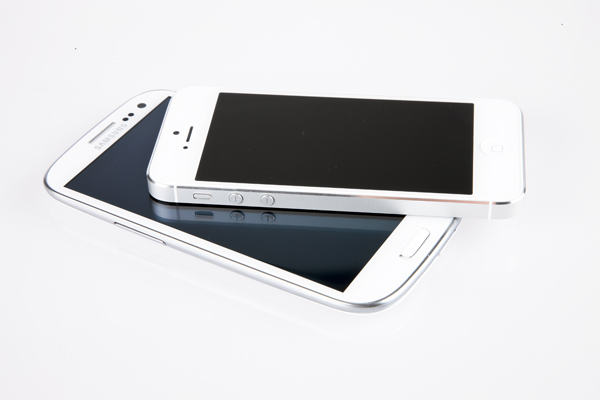 There is one slight issue, though, that's a bit of a problem if you opt for the black version of the iPhone 5. As its rear is aluminium, it is quite scratch-prone. In the black edition, any scratches are clearly visible as they reveal the bright silver of the aluminium underneath.
It's not such a problem with the white version, but has already left many new iPhone owners a little annoyed. Apple has admitted this issue, but says it's normal for an aluminium device.
Samsung's great white (well, pebble blue and white) hope for 2012 has an all-plastic finish that uses a flimsy, ultra-thin back cover.  This is the one part of the phone that has caused the most criticism, as it doesn't make it feel all that much like a device you should be spending £500 on, even if in practical terms it's just as tough.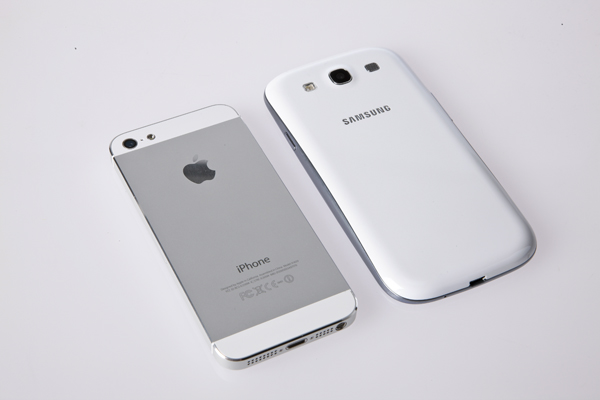 The Samsung Galaxy S3 is also significantly larger than the iPhone 5, thanks to its ginormous 4.8in screen. It's 71mm wide, while the iPhone 5 is around 58mm wide. Our top recommendation is to get hold of a Galaxy S3 before buying if it's on your hit list. Some will find it a bit too big for comfort.
Accessories
iPhone 5 – new-design Earpod headphones, new Lightning power connector
Samsung Galaxy S3 – microUSB charge cable, Samsung noise isolating IEM earphones, adapter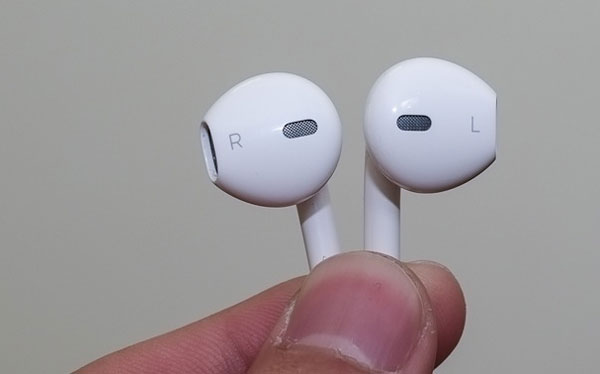 We don't normally compare the accessories of phones when we give them the head-to-head treatment, but Apple's accessories this time around are of note . The iPhone 5's headphones have been given a completely new design, one you just don't see elsewhere.
The headphones are called Earpods, and they're not the typical iPhone buds of old, or the common noise isolating IEM type either. They're small, made of plastic and are designed to nestle into your ear canals, offering a bit more noise isolation than the earbuds of old.
They're incredibly comfortable and fit securely too, and crucially for fellow train/coach/car/plane passengers, the Earpods leak much less sound to the outside world. They also sound pretty good too. Apple has completely redesigned the sound ports to boost bass and even out mid-range. The result is a surprisingly good listen, with good bass response and a notably wide sound stage. That said, they still don't block out external noise enough for our liking and we're only talking good for a £25 set of earphones – don't ditch your custom IEMs just yet.
The power cable of the iPhone 5 is also different, using the new 8-pin socket rather than the 30-pin type that has been in use for years. Apple calls it Lightning, which linguistically fits-in rather nicely with its Thunderbolt computer port. You also get a power adapter for the cable and a SIM removal tool.
Samsung's Galaxy S3 is more ordinary in its approach, though no less useful. It features a microUSB charge cable, a power adapter to plug this cable into and a standard pair of Samsung-branded IEM noise isolating earphones. The latter offer some external noise isolation but aren't actually that great when it comes to sound quality.
Screen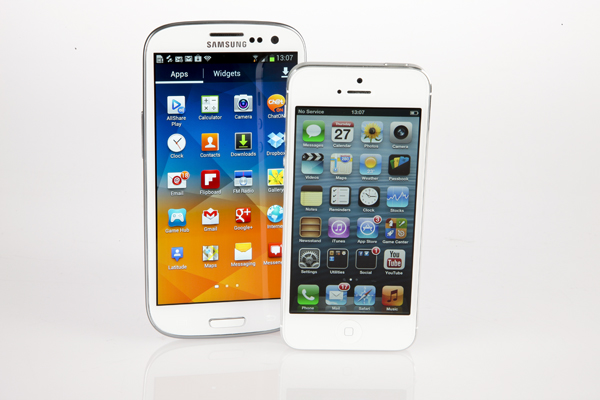 iPhone 5 – 4in IPS, 1,136 x 640 resolution
Samsung Galaxy S3 – 4.8in Super AMOLED, 1,280 x 720 resolution
Every generation of iPhone since the original of the species back in 2007 has uses the same size screen – 3.5in. That has all changed with the iPhone 5. It now has a widescreen 4in display of 1,136 x 640 pixels.

It's this change of screen style that will make the iPhone 5 able to offer a larger screen without making the phone any wider. Pixel density is the same as the iPhone 4S too, although the new aspect will make it much better to watch movies on.
Many apps have already been tweaked to support the new longer screen while older ones will just leave bars where the extra pixels now live.
The Samsung Galaxy S3 cares a lot less about how wide it is than the iPhone 5. With a gigantic 4.8in display, the Galaxy will be too wide for some hands – it's a whopping 7.6cm across. Screen pixel density will be comparable to the new iPhone, though, with 720 x 1,280 spread across the display.
Each phone uses quite a different screen tech type. The Samsung Galaxy S3 features a Super AMOLED panel, while the iPhone 5 uses a new take on the IPS technology that has been used in iPads and iPhones for years.
Super AMOLEDs offer superb black response and vivid colours, but IPS screens tend to look a little more natural. In our recent comparison of the Samsung and the HTC One X, we found in favour of the HTC's IPS type.
In bright sunlight, the iPhone 5 is the clear winner of the two. It's less reflective, offers greater maximum brightness, supplying much better visibility in this sort of challenging situation. In a dark room, though, AMOLED comes into its own.
Screen fight: Galaxy S3 vs iPhone 4S vs HTC One X gallery >
Software
iPhone 5 – iOS 6
Samsung Galaxy S3 – Android 4.0 Ice Cream Sandwich (4.1 incoming), TouchWiz UI
The battle of iOS versus Android is one we've been watching ever since 2008, when Android was born. Android has changed a good deal more than iOS in that time, and is finally getting close to becoming as slick and quick as iOS. Apple's OS has always been pretty nippy.
The Samsung Galaxy S3 isn't quite there yet, as in most territories it still uses Android 4.0 Ice Cream Sandwich rather than the latest Jelly Bean version. Android 4.1 Jelly Bean sees the start of an initiative called Project Butter. This is designed to take full use of the processor power available, with the aim of running Android at a solid 60fps.
Android offers more integrated features an flexibility than iOS too. You can even change the way your phone responds to basic functions, such as replacing the SMS app with a third-party one. Apple doesn't let you do anything like this. And, of course, the home screens of Android give you much more control over how your phone looks than the rigid app menu layout of iOS.
The Samsung Galaxy S3 also benefits from a blunder made by Apple. iOS got rid of the Google mapping solution that had been in use since the early days of iPhones, replacing it with Apple's own stab. At present, Apple's new Maps app doesn't work too well though. Its maps are out of date, with towns mis-named and many roads simply missing.
The Samsung Galaxy S3 uses good old Google Maps, which works a treat. And actually features maps from this decade.
Samsung's phone also benefits from a few tweaks added-in with the TouchWiz UI. Most notably, it brings features that were only introduced in Android 4.1 Jelly Bean. These include monitoring for eye movement before switching off the backlight and integrated NFC pairing.
Power
iPhone 5 – 1GB RAM, A6 processor, power TBC
Samsung Galaxy S3 – 1GB RAM, Exynos 4412, Quad-core 1.4GHz
One area where the Samsung Galaxy S3 might beat the next iPhone is its processor's figures. The Samsung Galaxy S3 uses the impressive Exynos 4412 chip, which has four cores and runs at 1.4GHz.
Annoyingly, Apple hasn't revealed in-depth technical information about the CPU. At present, we only know that it is two times faster than the iPhone 4S's chip, which has a dual-core 1GHz CPU and PowerVR SGX543MP2 graphics. Will it be quad-core? Will it offer face-melting speed? You'll have to come back in a while to find out. We'll update this feature as soon as we have the full details.
Connectivity
iPhone 5 – new proprietary 8-pin connector, no microSD, microSIM
Samsung Galaxy S3 – microUSB, microSD, microSIM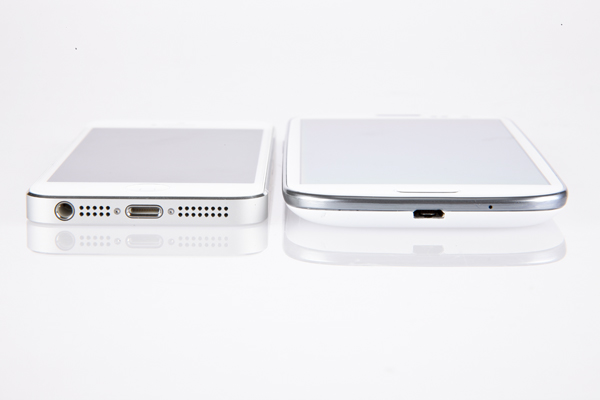 Perhaps the most earth-shattering change in the iPhone 5 is that it rejects the 30-pin connector used across iPods, iPads and iPhones in favour of a much-smaller 8-pin model. This is comparable in size to the microUSB standard, although it's not exactly the same as microUSB. Apple is never keen on going with the bog-standard option when it can make its own version.
The problem with changing connector is that the new iPhone will be incompatible with current iPhone docking accessories – not good news if you own something like a B&W Zeppelin. However, Apple does offer a connector that acts as a bridge between the old 30-pin socket and the new 8-pin one.
It's all change, but the iPhone 5 doesn't bring expandable memory to the series – no iPhone to date has offered a memory card slot. You're also mostly tied to iTunes when transferring content like music and pictures to the phone.
The Samsung Galaxy S3 is pretty much the polar opposite in its approach. It lets you use microSD cards and uses the microUSB standard. Handily, it's MHL compliant, too, able to output HD video with surround sound audio to an HDMI port when used with the right cable. Unlike the iPhone, the Samsung doesn't rely on sync software to transfer files directly either – you can drag and drop files when plugged into a computer over USB.

Cameras
iPhone 5 – 8MP, LED flash
Samsung Galaxy S3 – 8MP, LED flash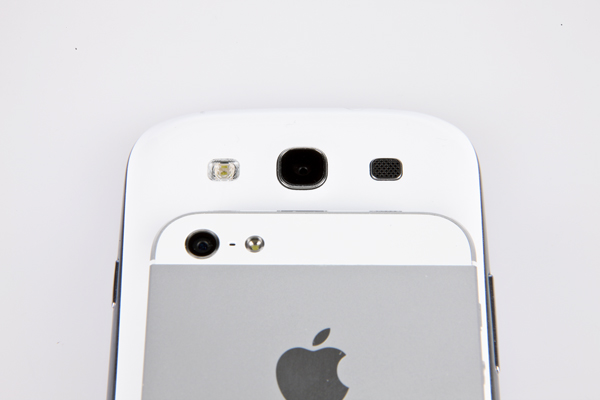 Although many elements of the iPhone 5 have been improved hugely over its predecessor, the camera has only been given a slight upgrade. It's still an 8-megapixel sensor, and it still uses a pretty standard LED flash. Its aperture is f/2.4 and it uses a five-element lens. Like the iPhone 4S, the sensor offers backside illumination.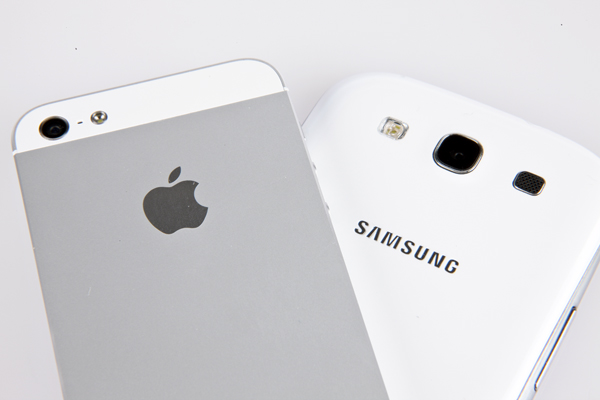 The Samsung Galaxy S3 has an 8-megapixel sensor and reams of features including image stabilisation, touch focus, 1080p video capture and an LED flash. However, its image quality is at best on-par with the iPhone 4S's camera (and outperformed by it in some conditions) and we hope that the iPhone 5 will offer some significant improvements.
The iPhone 5 also offers an impressive looking panorama mode – just tap and pan to automatically create an image. Unlike other similar panorama modes we've seen this one keeps the full size image, giving you up to 28 megapixel images – nice.
Battery
iPhone 5 – 1440mAh
Samsung Galaxy S3 – 2100mAh
The iPhone 5 hasn't gotten a huge battery increase over its predecessor.  The iPhone 4S has a 1430mAh unit, and the iPhone 5 a 1440mAh unit. It'll last for 40 hours of audio playback, or up to eight hours of talk time, with 3G enabled.
Also, like previous iPhones you can't swap out the battery on the iPhone 5, so if you're caught short without power you're done for… well, your phone is anyway.
Samsung made a particularly strong effort with the latest Galaxy's battery, outstripping most of its rivals by around 20 per cent. For example, the HTC One X uses an 1800mAh unit and the Sony Xperia S a 1750mAh battery.
In spite of the larger screen and only slight capacity increase, the iPhone 5 betters the stamina offered by the iPhone 4S. Apple must have put some real effort into this.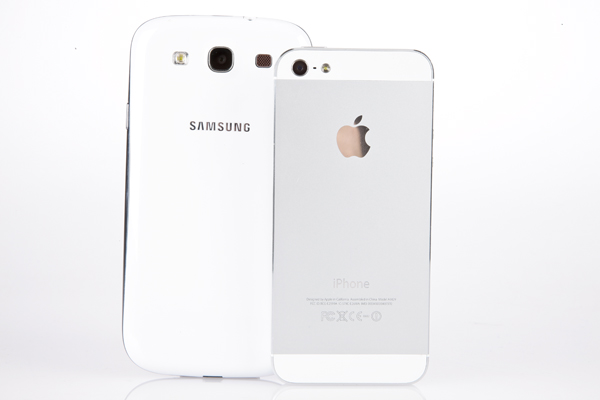 Verdict
More than is often the case, the battle between the iPhone 5 and Samsung Galaxy S3 is the very definition of the case between iOS and Android, between Apple and Google. The Samsung Galaxy S3 is more flexible, with expandable memory and a more malleable OS. However, the metal body of Apple's phone feels a lot more premium, and is a much friendlier design for those with less than giant hands. And with the larger 4in screen, it won't feel quite so tiny next to the Samsung Galaxy S3, either.