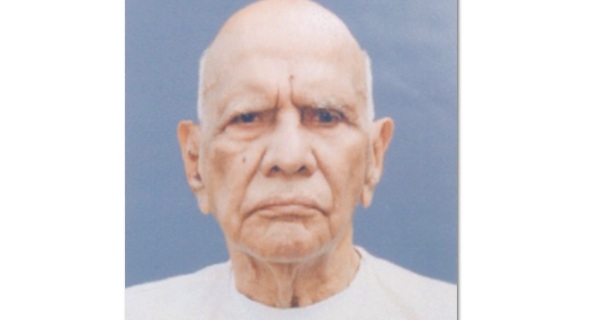 Nagpur News.
Noted entrepreneur, philanthropist and patron of several socio-cultural-educational institution and patriarch of Purohit family Shri Bhagwandas Purohit breathed his last on Tuesday afternoon at around 4.15 pm, due to old age. He was 97.
He is survived by three sons- former MP and Managing Editor of The Hitavada Banwarilal Purohit, US-based surgeon Dr Surendra Purohit and industrialist Ashok Purohit and four daughters- Pramila Joshi, Shashi Pareek, Nirmala Pareek and Sheela Pareek, grandsons- Rajendra, Rakesh, Kunal, Dr Sunil, Ajay and Vijay and a host of relatives to mourn his loss.
Born in April 1917 at Nawalgarh in Rajasthan, he completed his education there and became Headmaster of a school in Chirana. Later he joined Loyalka Business Group at Kolkata and became the General Manager of its subsidiary establishment at Nagpur named Regent Estate. After a successful stint, Bhagwandas started his own business in Nagpur city and carved a niche for himself.
A firm believer of ethical business practices, Bhagwandas soon became a leading cotton trader and commanded highest respect. As cotton trade flourished, he started a Ginning and Pressing Mill in Nagpur which prospered and created opportunities to start ancillary industries.
In 1972, Bhagwandas started the production of 'Ashok Vanaspti' which captured the market all over the country. While successfully establishing his business establishments, he was very active in social and cultural activities and was an institution builder par excellence. The Hitavada was re-started in 1978 by Purohit and Company headed by him and since then the newspaper established itself as Central India's signature newspaper.
It was his firm belief that inculcation of sanskara is a must and good education is key to a healthy nation, he along with son Banwarilal started a school in 1982 in Civil Lines. It was followed by a second school at Srikrishnagar in 1995, a third one at Ashti in 2006 and recently fourth one at Trimurti Nagar. These schools were named at Shri Bhagwandas Purohit as a mark of respect to his vision, foresight and spirit to establish and open up institutions to unfold a grand future.
To spread education among women, Bhagwandas started a Women's College in the memory of his wife, late Ratni Devi Purohit. A College of Management and Communication has also been established in his name by Bharatiya Vidya Bhavan. He brought Nagpur on the map of Bhavan and made it an illuminating, educational, social, cultural centre.
Apart from his patronage and establishment of educational Institutions, Bhagwandas had liberally donated to the world famous Aurobindo Ashram of Pondicheery in Nagpur. He also set a tradition to participate in Shri Ram Janmotsava Shobha Yatra and the tradition has been continued.
A large number of people from all walks of life paid last tributes to departed soul.
The funeral procession of late Bhagwandas Purohit will start from his residence at plot no 63, East High Court Road, New Ramdaspeth, Opposite Dr Jai Deshmukh Nursing Home on Wednesday at 10 am for Mokshadham.
Bhavan's Schools at Civil Lines, Srikrishna Nagar, Ashti, and Trimurti Nagar will remain closed on Wednesday, November 20, condoling the death of Bhagwandas Purohit, Patron and Chief Donour of Bharatiya Vidya Bhavan. T G L Iyer, Director of Bharatiya Vidya Bhavan, has appealed to the parents of wards of these schools to take note of the closure on Wednesday.