Flesh trade was thriving in the name of Massage Parlour and Spa Centre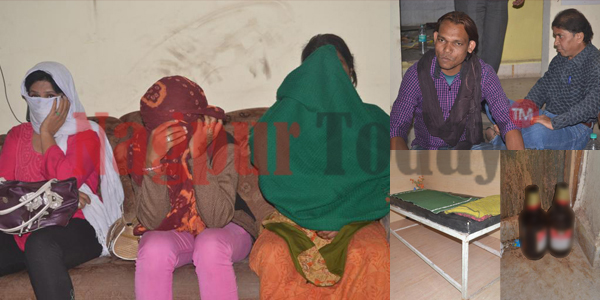 Nagpur News.
In a well-planned operation, Special Women's Cell of Nagpur Police Crime Branch raided a so-called massage and Spa Centre in Deo Nagar, near Khamla Square, Nagpur and detained three girls thus exposing a sex racket today (November 19). However, the key accused are reportedly absconding.
The Special Cell received a tip-off that the Massage Parlour and Spa Centre, located at the Second Floor posh flat of Opel Plaza, above Yavatmal Uraban Cooperative Bank in Deo Nagar, Near Khamla Square, was running the sex racket in the name of the Massage Parlour and Spa Centre.
The operators of the Massage Parlour, first published and distributed pamphlets which stated 50 per cent discount in the package including all types of hair treatment, hair-cutting with modern styles and facial facilities. Moreover, the Massage Parlour, in the name of UK's Premier Alternative Therapy Centre the Zoin Health and Beauty Centre, offered guaranteed solutions to all health problems including Spa treatment for gents, women at the hands of London experienced experts. However, the publishing of high-profile pamphlets and the lucrative offers for all health problems was an uncanny strategy to divert attention of citizens, and police, too, from the real "flesh trade."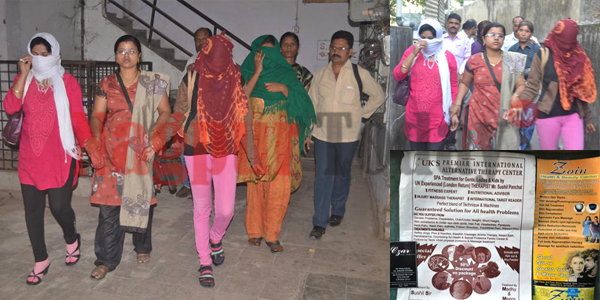 The posh flat, which was previously owned by Deo, was taken on rent of Rs 15,000 from the now unidentified owner, by Mohsin Khan, (38), resident of Kamptee, and his nephew Firoze, the operators of the sex racket. The Special Women's Cell of Crime Branch has detained the manager of the "Parlour" Riya Nathhuji Ghate (38). Riya was also detained during a raid on Ambika Massage Parlour in Ramdaspeth that was also running the sex racket in the name of parlour. The key accused Mohsin Khan and his nephew Firoze are absconding as soon as they came to know of the raid. Names of the three girls detained from the Parlour have been held back. Two customers were also detained by the police.
The raid was carried out by the Special Women's Cell Senior Police Inspector Kamala Jadhav, PI B Kamble, Head Constables Sukhdeo Madavi, Prakash Seeram, Lady Constable Poonam and other policemen.