Nagpur News: A political battle over a cruelly treated baby elephant in Kolhapur hit Nagpur city on Thursday afternoon, as activists from PETA (People for the Ethical Treatment of Animals) and city- based NGO iSAW held a peaceful protest in front of Van Bhavan, the seat of principal chief conservator of forests (wildlife) SWH Naqvi, demanding the elephant's release.
The elephant, named Sunder, had been captured as a child and donated to the Jyotiba Temple in Kolhapur by local MLA Vinay Kore. Sunder is useful to the temple authorities for fundraising, as well as to attract crowds and make a grand statement. The Kolhapur District Collector also belongs to the administrative body of the temple.
PETA workers have been campaigning against the ill- treatment meted out to the young elephant for months. Sunder is underfed and confined to a dark cattle- shed near temple premises. He has been badly beaten by his mohauk- bruises can be seen all over his body, he has been partially deafened due to damage to one ear and partially blinded by one of his eyes having been ruined by beating.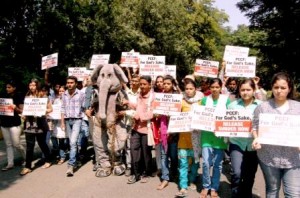 "Elephants are generally peaceful herbivores, and do not harm anyone", said iSAW official Pramod Kanekar on the sidelines of the protest, "Only extreme torture and dire circumstances can push them to violence to save themselves. The fact that Sunder had torn down the pillar in an attempt to escape on an earlier occasion is further proof of ill- treatment".
PETA had sent their investigative report and photographs to Patangrao Kadam, requesting rehabilitation of the elephant. The request had been declined on the grounds that Sunder had nowhere to go, whereupon PETA arranged for his habitation at a wildlife sanctuary in Karnataka. Sunder's release orders were then passed by the ministry, but he is still in captivity.
On being contacted, Naqvi told Nagpur Today that Jyotiba temple authorities had put up their side of the case recently, and hence a governmental investigation team had been to Kolhapur to inspect the situation. "Until their official report is given in, the order for the elephant's release had been put on hold", he said.
-Meghna Majumdar