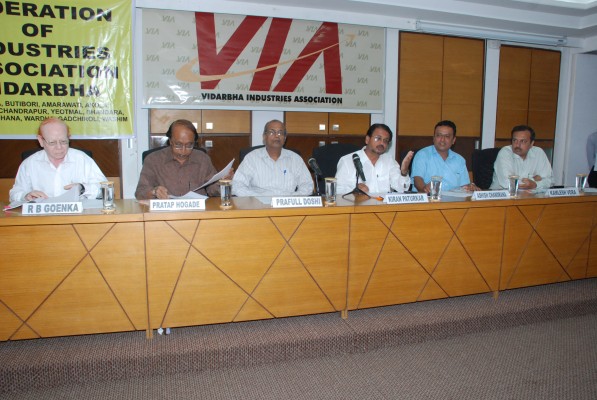 Nagpur Business: A joint meeting with all associations and consumers is called at VIA to decide action plan to oppose unsustainable tariff hike in Maharashtra.  This tariff hike resulted in unsustainable shock to industrial consumers.
Impact on consumers due to new electricity tariff for FY 2012-13 (case no. 19 of 2012)
MERC allowed ARR of Rs. 48926 Crore against MSEDCL proposal of Rs. 50750 Crore.
MERC projected in the tariff order that the rise in overall tariff is of 16.48% as against MSEDCL proposal of 17.68%.
The actual increase in tariff compared to past tariff order is about 40%.  Commission projected the increase in tariff to the tune of only 16.48% considering the existing tariff inclusive of all additional charges which were not part of  previous tariff as per submission of MSEDCL in the Appellate Tribunal.  This increase amounts to tariff shock to consumers.
 Commission has increased the tariff 6 times in the year 09-10 and 7 times after current tariff decided for year 2010-11.  Some of the increase were done  without any public hearing.
The consumers particularly industrial consumers are facing difficulty due to such unstable tariff and can not calculate  their cost of production. 
Interest on Regulatory Liability Charge
In recent order Hon'ble Appellate Tribunal for Electricity directed MSEDCL to give interest on Regulatory Liability charge to the consumer.  Commission has decided the rate of interest on such refund  MSEDCL did not make any provision for such payment

Rebate to HT industries during off peak period :
MSEDCL proposed to increase rebate of 85 paise per unit to 250 paise per unit applicable during night hours from  10.00 PM to 6.00 AM but Commission increased this rebate to only Rs. 1/-.  MSEDCL filed review petition in this matter with Commission which should be allowed.
Proportionate FAC being charged to consumers
MERC decided to charge proportionate FAC charges to different categories which has increased the tariffs of subsidizing consumers to a great extent and cross subsidies has further increased.
The present tariff in Maharashtra is the highest tariff in India and is unsustainable for industries.  The cost per unit for HT consumers in the month of Sept. bill has gone in the range of Rs. 8.05 per unit.  The cost of tariff in neighboring State like Chhattisgarh is only Rs. 4.70.  For Mini steel plants the cost of production is about Rs. 2500/- per ton more compared to Chhattisgarh and for ferro alloys units it is about Rs. 14000/- per ton more compared to Chhattisgarh.  All these plants are on the verge of closing down due to very high tariff in Maharashtra.
Request to the Commission
The commission is requested by all the consumers and Industries of Vidarbha to
a)        Make  Provision for refund of balance RLC amount.
b)        Allow   Interest on Regulatory Liability Charge
c)        Make road map for progressive reduction of cross subsidy  :
d)         Providing rebate of Rs. 2.5 per unit industries during off peak period :
e)         To separately categorised BPL category so that high Energy charges
being paid by other domestic consumers shall reduce since cross subsidy
shall be reduce as per provisions of  Act.
f)          Remove provision of differential FAC charges to consumers categories.
g)         Merge express & non express feeder tariff.
h)        Direct MSEDCL to follow standard of performance.
i)          Provide separate feeders to industrial consumers in single phasing areas.
j)          Implement amendment in SOP Regulations
k)         Frame & implement open access Regulations
l)          Not to recover capital expenditure for shifting of poles from Nagpur
Consumers
m)       Provide definitions of manufacturing and express & non express feeder
Regulations to avoid litigations.
n)       make corrections in application form and agreements of consumers
o)       Avoid delay in providing judgements
Make immediate regulation for parallel licensee in the State to develop competition in power sector.
Request to Hon'ble Power Minister of Maharashtra
i)             Take a policy decision to advice the Commission to review the tariff particularly industrial tariff and bring it at par with neighbouring State.
ii)            Direct Commission to make immediate Regulations for providing open access including purchase of power through power exchanges./
iii)           Direct Commission to make regulations for parallel licensee in the state and implement the same.
iv)           Make a subsidy provisions in the industrial consumers to make the tariff sustainable and for survival of industries in Maharashtra looking to the fact that industrial growth is reducing and resulting in adverse impact with the revenue of Govt.
Unanimous decision taken at the meeting of all association representatives held at VIA on 18th October 2012.
Industries all over Vidarbha to shut down production on Thursday 25th October 2012.
Stop payment of electricity bills in case no action is taken by the government / MSEDCL & MERC