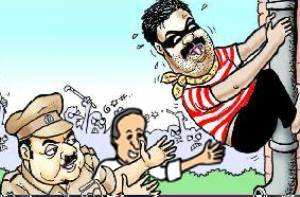 Nagpur News.
A chain snatching bid was thwarted in the nick of time by the alert citizens. The thieves, including a juvenile were chased down when they were trying to escape after taking away the golden necklace from a middle aged-woman.
Anju Raju Upadhyay (34), a resident of E Block 9/12, Vyankatesh Nagar, was walking back home with her son from Shitala Mata Mandir road, Vyankatesh Road on Friday at 6 pm. Two people including a minor, came from behind on their on the motorcycle (MH 49 P 3198). They tried to snatch the mangalsutra worn by Anju. But, the nearby people caught hold of the thieves before they could sped away.
The thieves were then handed over to Nandanvan police who arrested the youth and took the juvenile into custody. They registered a case under Sections 393 and 34 of the IPC. Further investigations are in progress.