'Peace India' celebrates World Book Day with orphans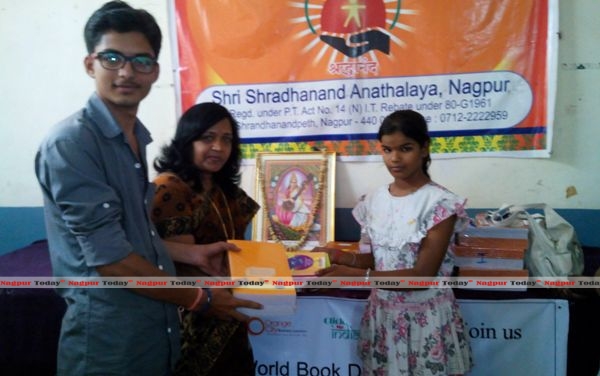 Nagpur Today.
One of the social organizations, Peace India, Nagpur celebrated World Book Day at the Shraddhananda Anathalaya in the city. A two-day program was organized to mark the celebration. The program was organized in association with Crazy Minds, Orange City Business Solutions and Clickmeindia.com.
As part of the celebration, the volunteers of Peace India donated about 170 notebooks, general knowledge books, pens and other stationery material at the orphanage on Wednesday. An interaction cum entertainment program for the kids was organized on Thursday.
During the program, the volunteers of Peace India talked to the children and told them the importance of books. The children were later asked to come on the stage one by one and tell stories during the story telling session. The volunteers also played various games with the children. The winners were given prizes at the end of gaming session. A lunch was organized at the end of the program.
Co-founders of Peace India Shreyas Holay and Trupti Ingole, Hardik Rai, Rupali Jambhulkar, Nihal Rai, Kishor Nair, Vaibhav Shrirang and CEO of Orange City Business Solutions and Clickmeindia.com Tarun Pradhan were present during the program.