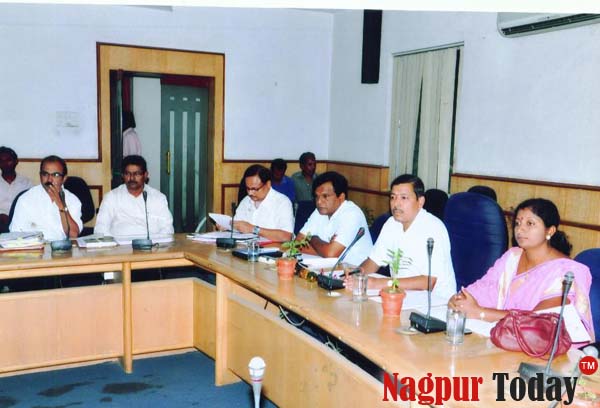 Nagpur News: The Nagpur Municipal Corporation's (NMC) Special Committee on Assessment and Recovery of Taxes held its first review meeting under the Chairmanship of Prof Girish Deshmukh at Dr Panjabrao Deshmukh Memorial Hall of NMC. The Special Committee was formed by Mayor Anil Sole under the new Maharashtra Municipalities Act. The Chairman of the Special Committee Prof Girish Deshmukh first reviewed the zone-wise (10 Zones) assessment and collection of various taxes from 01-04-2013 to 30-06-2013.
Prof Deshmukh found that almost all the citizens are ready to pay the Property Tax subject to receiving the demand notices from the Property  Tax Department at the very beginning of the fiscal year. The citizens would be greatly encouraged to pay the property tax if the paid tax is registered online. After considering all these aspects, Prof Deshmukh directed carious tax departments to speed up issueing of demand notices, assessment notices and other related works. Prof Deshmukh specifically directed to the tax departments to search for new properties constructed and those properties whose assessment has not even been carried out.
Similarly, Prof Deshmukh stressed upon resolving of mutation issues as soon as possible so that the target given by Standing Committee could be completed within the stipulated period.
The review meeting was attended by the Deputy Chairperson of the Special Committee on Assessment and Recovery of Taxes Divvya Ghurde, Committee members Kanta Larokar, Rashmi Fadnavis, Vasudeo Dhoke, Prasanna Borkar, Additional Deputy Commissioner Ravindra Kumbhare, Tax Assessor C G Dhakate, Amin Akhtar, G T Wasnik, Information Technology Officer Pravin Deshmukh, and e-Governance (CMCL) and Computech Service representatives.
The Chairman of the Special Committee Prof Deshmukh congratulated and praised officials and employees of various tax departments specifically the Property Tax Department for assessment and taxation of 5674 new houses. Similarly, the Chairman reviewed Local Body Tax (LBT) and issued the necessary directions.
At the outset of the review meeting, Additional Deputy Commissioner welcomed the Chairman  of the Special Committee by offering him a Tulsi sapling. Similarly, Tax Assessor S S Hastak welcomed other members of the Committee by offering them Tulsi saplings, too.