Patients, relatives in trouble due to shortage of blood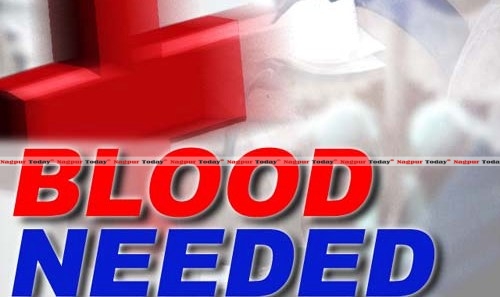 Nagpur News.
The blood shortage is increasing in Nagpur. The relatives are facing problems due to this short supply. Routinely the city requires 500 bags per day but now the demand has increased. The current supply is pegged at 700 bags per day.
The medical profession is making rapid strides in the city. In the present scenario the state government's ambitious plan Jeevan Amrut is also proving to be ineffective.
Due rise in demand the and short supply the private blood banks are doing good business. Owing to various tests required and high cost of storing and preservation, the patients have to pay more for blood. It is only after the tests like syphilis, HIV, malaria, Hepatitis etc the blood can be supplied to the patient. Sickle cell patients have to face a lot of problems due to this.
Shortage for six months
It is found that every year from February to June there is short supply of blood in the city. This is attributed to less no. of students willing to donate due to examinations. On the contrary from July to January the attendance in schools and colleges is high. So 5-6 camps can be arranged every day by the blood banks. It is routine experience that 5, 10 or fifteen bags can be collected in each camp. At schools and colleges sometimes even 100 bags can also be collected.
Storing blood very costly
One private bank director, Manish Meshram said that storing blood is expensive.  The kits in which blood is supplied have also become costly. At present blood banks charge between Rs 1000 to 1300 per blood bag. Some banks also charge Rs 1500. He said A,O negative, O and Bo negative blood is less required.  Vis-à-vis that O +, Bo+ blood is more in demand.
Blood availability at Medical College
According to Dr Sanjay Parate, there is no shortage of blood at Medical College Blood Bank. He said there is some problem during examination period. But as the bank has already made provision the problem is overcome and patients are not required to face any problem.
Bad position at Mayo Hospital
The position of blood supply is not good at Mayo Hospital Blood Bank. Due to shortage of blood patients here are required to collect blood from private banks. When the concerned officials were contacted, nobody could give any satisfactory reply.