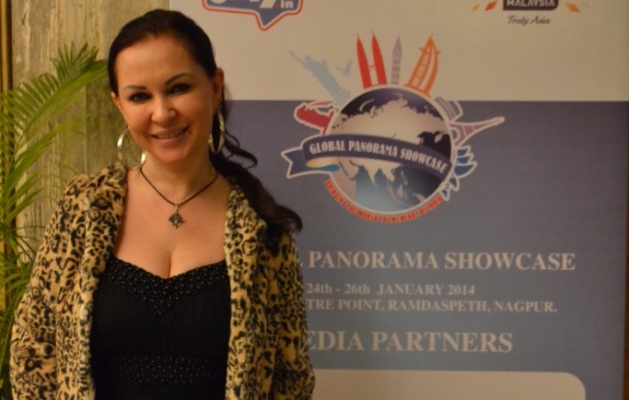 Nagpur Today: Ukrainian- Italian model Nataliya Kozhenova who made her debut with a Hindi movie "Anjuna Beach" in an exclusive talk with Nagpur Today said that right from childhood; Bollywood movies had always fascinated her. She was a huge fan of Mithun Chakraborthy. With her father a professional dancer and her mother a Fabric Designer and one who sings beautifully, she said that acting and performance is in her blood. Right from childhood, she has played different roles in dramas and plays in Italy.
While in Ukraine (which she left after her father's death), she has watched many Hindi movies like Jagir, Disco Dancer, Dance Dance, Baazigar, Betab, Janoo, Kalakar and many others.
She fell in love with Hindi movies because "Love" seemed to exist only in Bollywood.
Social-media played an important role in her life. Well she landed at Mumbai in India, 4 years ago in 2009. Did she have any relatives in Mumbai? Practically No! All she landed here was with her contacts from Facebook. They arranged for her stay food and other arrangements. She somehow got in touch with veteran actor Jackie Shroff. He liked her and took a fascination for her acting skills and the passion she had for acting.
Then with his help, she started developing her own contacts. She used to attend various parties and events and developed contacts by speaking to various celebrities, directors and well established actors.
She added very vehemently that the love and affection depicted in Hindi Movies was not found in reality anywhere. She said that she adored Arjun Rampal because he is a good human being.
Finally Nataliya got a role in Hindi film Anjuna Beach in which she played the controversial role of the 15-year-old Scarlett Keeling. Scarlet who in reality was the unfortunate young British Girl was brutally raped and murdered in Goa's Anjuna Beach in 2008.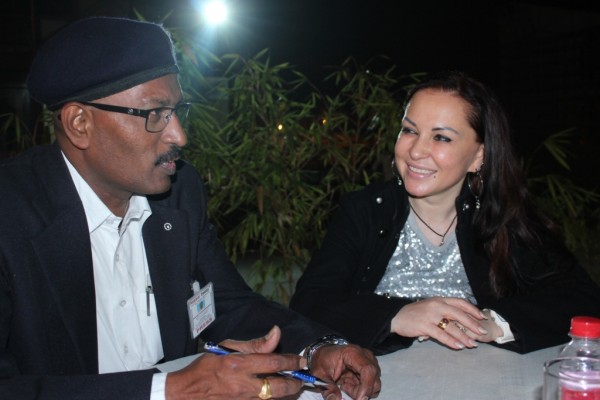 After Anjuna Beach, she bagged a role in "Super Model" which was Hindi romantic thriller featuring Veena Malik and Ashmit Patel in the lead roles. The supporting cast includes Nataliya, Harsh Chhaya and Jackie Shroff.
The film was produced by Ravi Ahlawat of Eye Telefilms Pvt. Ltd and directed by Navin Batra.
Nataliya claimed that all those who saw her performance in the Hindi movies appreciated her work. She said that she does not want to try her hand in TV serials and would like to concentrate only on big screen. She added that she would like to prove her mettle of acting in Hindi Movies.
How did she deliver the dialogues? She admitted that when she arrived in Mumbai, leave alone Hindi, She could not even speak properly in English. Recently she has hired a tutor who teaches her Hindi and proper diction and pronunciations.
She said that she has no "Godfather" in Hindi film world which for a long time had created a hindrance in getting good roles. She added that she doesn't want to become famous by getting into any controversy.
How does Nataliya maintain her figure? No secrets here. All she does is go through a rigorous session in the gym and swimming. She claims that does not watch out her diet. She eats well. She love non-vegetarian food and fish is her favourite dish.
She loves the dry and hot season. Winter is pleasant for her.
By religion she is an Orthodox Christian, however she added that she is not really into religion that much and that she believed in one God.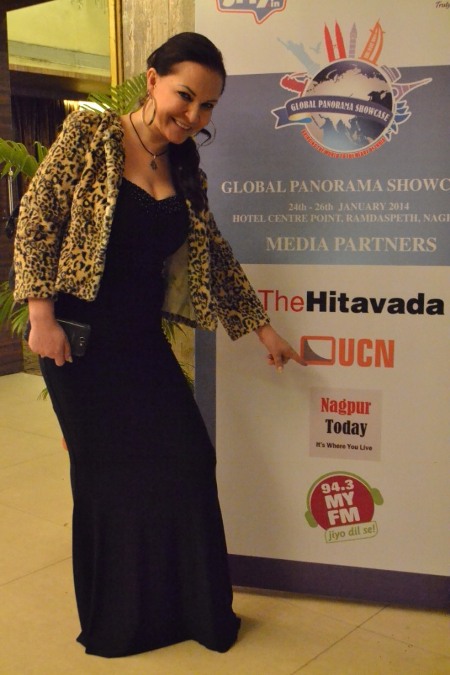 She said that I am a sensitive and emotional person. I feel bad for suffering animals. She claimed that when she becomes successful and can afford to spend on charitable causes, she would definitely perform charitable work for Handicapped children and aged. She claimed that she is passionately in love with Dogs and Dolphins.
She said that she is the only girl (daughter) among many boys (sons and cousins). These brothers taught her to be a tom boy when she was very young.
Her message to people at large:
Respect and understand the need for Love. Love everybody instead of money. Friendship, relationships have to be respected, understood, cultivated and cherished. Every child should be disciplined and pampered a lot that they are not able to face any problems, difficulties and failures when they grow up. Bollywood is not an easy proposition. Only with very hard work can anyone hope to achieve anything in Bollywood. She claimed that Luck also plays an integral part in becoming successful in Bollywood.
Her Attire:
She prefers casuals like Jeans and T-Shirts be it at home or in public. However, she prefers party wear which includes gowns etc.
With all such beautiful things going good for her, yet she is very humble and very understanding person. What impressed Nagpur Today was that she readily agreed to pose with the entire kitchen staff.
Nagpur Today wishes her all the success in all her future endeavours and movies.