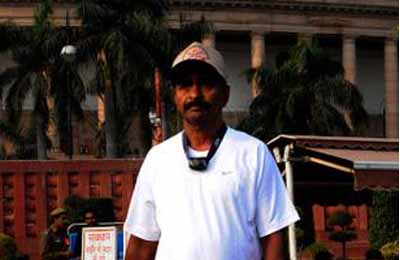 Nagpur News :  Vidyadhar Bhuskute is on a mission — to walk across the country to spread the message of peace and bonhomie.
He started from Srinagar on October 16 this year and proposes to walk all the way right to Kanyakumari. It seems to be a challenging task, especially for a 62-year-old man.
Born to freedom fighter late Anna Saheb Bhuskute and Sindhu Tai Bhuskute (83) from Dombivali in Maharashtra, Mr. Bhuskute is a retired bank employee.
The padyatra will reach Nagpur  on January 25 and Nationalist Congress Party (NCP) has organised a programme to welcome the padyatra at Gandhi putla, Sitabuldi under the leadership of City unity President Vishal Khandekar.
Donbiwali, Mumbai resident Vidyadhar Bhuskute is a retired Bank of India employees and has taken up the patriotic genes from his parents Annasaheb Bhuskute and Sindhutai Bhuskute who were freedom fighters. The seeds of patriotism and social work were sowed back in his childhood and later the seeds only grew into a healthy tree of patriotism. In view of this, Bhurkute started an organization that works for the homeless woman and helps them make a living. He organised lectures of noted social workers and 'influential' names through his Annasaheb Bhurkute Manch to create awareness among the masses.
Noted personalities including former President of India Dr A P J Abdul Kalam, Senior Editor Kumar Ketkar, social worker Medha Patkar, Dr Kiran Bedi have applauded Bhuskute's work and have extended their support to his mission.
NCP workers have appealed the citizens of Nagpur to come forward and extend their support by remaining present at the welcome of this padyatra.