Proud Moment For Newly Attested Guardsmen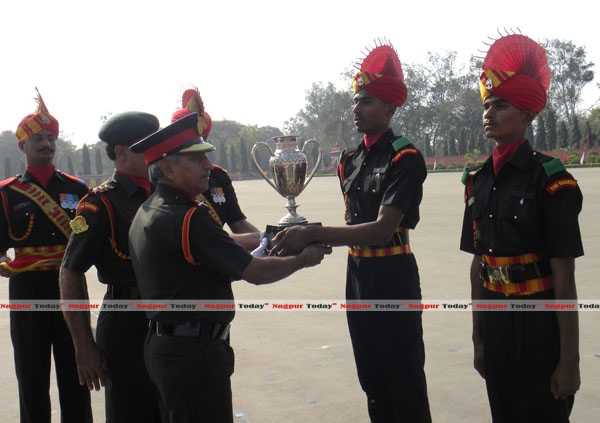 Nagpur News :  103 Recruits of the 93 Recruit Course of The Brigade of The Guards attained status of a COMBAT SOLDIER at an impressive and solemn passing out and attestation parade held on 06 Feb 2014 at Jadunath Parade Ground, Guards Regimental Centre, Kamptee.
A colourful Ceremonial Parade was presented by these proud young GUARDSMEN, who are the newest additions to the ARMED FORCES FRATERNITY. These motivated and spirited young GUARDSMEN have earned their status after challenging and strenuous training of thirty four weeks. Keeping with the age old traditions, they were administered the oath of allegiance and devotion to duty by the Adjutant.
As they crossed the symbolic LAST STEP in slow march to the famous AULD LAYNE SANG tune of the band, these recruits formally attained the status of Combat Soldiers ready for frontline duties.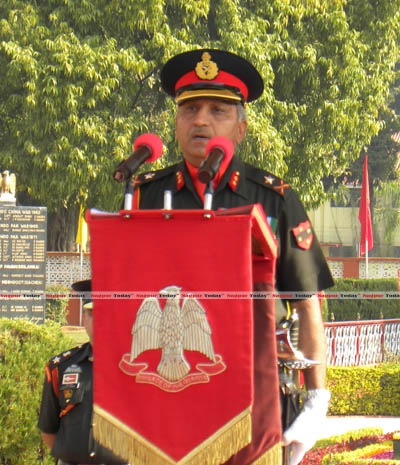 Maj Gen Suresh Kumar Yadav, Major General Adm, Headquarters Southern Command reviewed the parade. The General Officer is alumni of Officers Training Academy, Chennai and after passing out with a gold medal, was commissioned into the 9th Battalion, The Brigade of The Guards. The General Officer possesses enviable academic qualifications. He holds a Master Degree in Agriculture. During his career in the Indian Army he has been bestowed with Master degree in Science in Defence Studies and Management Studies. He has vast experience of Command, Staff duties and Instructional appointments in different sectors and terrain including J&K, Arunachal Pradesh and High Altitude. He commanded 9th Battalion, Brigade of The Guards, an Independent Mechanised Brigade in Western Theater and later tenated a difficult and challenging appointment of Commander, Jharkhand, Orissa and Bihar Sub Area in Patna during initial inception & formulation of the Jharkhand, Orissa and Bihar area. During his appointment as Deputy Director General Personnel Services in Jan 2011, he handled core Human Resources Issues related to terms and conditions, pay & allowances, pension and empowerment of all ranks. The General Officer is a keen sportsman and has led a River Rafting expedition in Brahmaputra on a Bamboo Raft covering a distance of 1,655 km in 32 days, for which his name has been recorded in the Limca Book of Records. The General officer is presently Major General Adm, Headquarters Southern Command, a prestigious and challenging appointment.
Medals were presented to outstanding Guardsmen in various disciplines of training. The coveted Overall Best Recruit Trophy was awarded to Recruit Narottam Yadav of Cariappa Training Company.
It was indeed a proud moment for the kith and kin of these recruits who had come from far flung areas to witness the eventful ceremony in which their wards participated. Wing Commander Samir S Gangakhedkar, PRO (Defence), Nagpur added "enthusiasm and pride on the faces of the young combatants was a delightful sight."