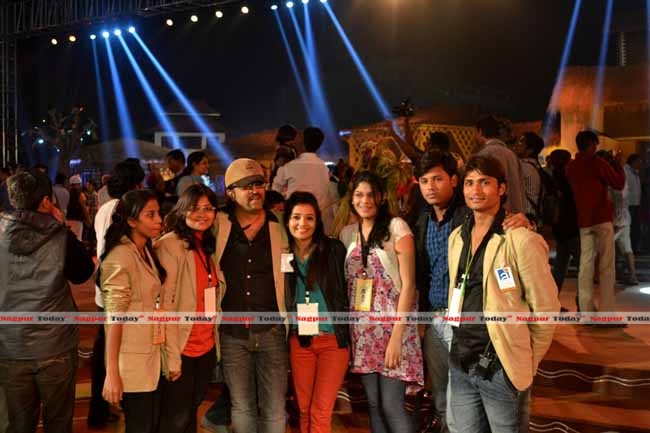 The field is glamorous, dazzling, lustrous and amusing … at the same time it's considered to be risky, vicious, somewhat phony in nature and what not! However no one can deny the fact that gone are those days when people would run from pillar to post with lists in the hands so that the buffet in a party had all the delicacies in right proportions and perfect order, to check if the decorations were all in place or to see if invitations had been sent to all the guests. The time has moved on and event management companies have taken over all the programmes.
In addition, Nagpur has truly been able to witness a number of grand galas and functions through the effective management by the event managers here; be it wedding functions, musical events, Nataks and Plays (Hindi, English, Marathi), celebrity visits, or most importantly events at the time of special eves and many more…..
In an effort to dig the reasons and tactics behind the management of an event Nagpur Today comes up with interviews of prominent event managers in the city. 
Pramod Batra, Director, Admaark Events (India) Pvt. Ltd., that has been associated with and celebrating Events Since 1995 opens his heart while talking to Nagpur Today…
-Tell us something about yourself?
Am a Perfectionist, think progressively and Young at Heart. Am very Rigid at times and always want everything my way!
-How did you get started with events in Nagpur?
When I was at the 'struggling' phase of my career and trying to convince my parents about not joining the family business and simultaneously thinking about what else could I take up…activities such as promotions, exhibitions, events appealed to me but there was no knowhow. Working gradually from the ground level I entered into events
-When did you become an 'event manager'?
Am still working on becoming one!!
-Which are your major events that took place in Nagpur?
Maati Ke Rang – Silver Jubilee Concluding Ceremony of SCZCC,
National Handloom Expo – Mumbai, Pune & Nagpur,
South Central Zone for Cultural Centre's Octave,
Launch of the Steam Engine 'Buland' at the Nagpur Railway Station,
Unveiling of Dr.Ambedkar's Statue at the Airport and many more…
Education & Career Expo every year for over 13 years.
Majority of the Automobile & Durables' Launches and Annual Conferences/ Meets across the region.
-Is anything else your profession apart from managing event?
We LIVE Events… BREATHE Events… :-))
– What all changes do you think you were able to introduce in Nagpur?
– We started our own flagship event the 'Education & Career Expo' in 2000 and have been hosting it for all these years…now everybody is doing it in Nagpur… Then we brought the Corporate Culture in managing events & promotions professionally. We also successfully took corporate budgets to the region which was otherwise getting exhausted in Mumbai, Pune & other big cities of the state.
-What struggles are involved in event management?
The struggle begins with gaining the client's confidence that we will be able to execute their event as per their expectations and wishes…Then we have to cope up with the limitations of resources, funds management and finding good working heads for a strong team.
-Which was the worst incident that happened to you as an event manager?
Nothing as such… Foreseeing the unpredicted situations and prepared for every surprise element to handle is THE KEY THING in the industry. Still… weather plays a major role in outdoor events which is unpredictable!
-How did you initially get assigned with events in hand? And of what types?
The age old practice called 'Marketing' that how we got assigned with events…till date all types of events, you name it –we do it! Be it a small B'day Celebration or the big fat Indian Wedding, A small Road Show & Promotion or a Multi City Launch, Exhibitions, Celebrity Shows, National Projects, Corporate Events, Govt. & Rural sector events…
-How exactly did you get in touch with the celebrity managers? How did they respond to you? (Good/bad?)
Initially through contacts & industry references along with personal visits. Now they pursue us…
-What all are the things that you spend upon during an event?
The question should have been what all things we don't spend on. The list of things that we spend on is unending…
 -It's been considered that event management is a vicious field, many good and bad things are involved in it. What do you have to say about it?
Good is – we make people's celebrations happier & their grief manageable.
Bad is everywhere…!!! It's up to you how smartly you handle & rule the situation. Odd working hours is one taxing thing I must say. When the world party or holidays Event Managers work…
-Which is the best and the worst thing about this field? 
These two do not go together…If you have it in you; Its Best field for you and gives you self satisfaction to the core. If you don't, it's the worst field to be in.
 -What are your future plans for Nagpur?
Why Nagpur alone ?? Vision unlimited!
-Any message for Nagpurites?
Celebrate more, enjoy more, spend more, demand more and remember to come to us! Looking forward to serve you the best in the industry.
::: Ritu Walia