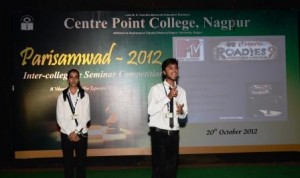 Nagpur News: Centre Point College had organized an Inter-collegiate event, Parisamwad 2012, for undergraduate students this year. The final round of the event was held at Scientific Society Hall, Laxminagar on 20th October.
Professor Arvind Bondre, Programme Officer, Centre for Rural Welfare was the Chief Guest. The panel of judges included Ms Asawari Shenolikar, Deputy Editor of The Hitvada, Mr T. Ram Mohan, Director of PT Education, Nagpur, Mrs Shilpa Khare, renowned faculty member and Mrs Veena Jaipuriya, practicing Chartered Accountant.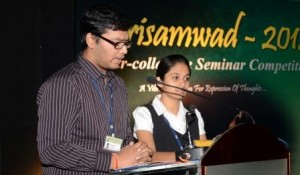 Parisamwad is an academic event organized by Centre Point College for it's students every year. This year the college went a step ahead and made it an inter-collegiate event. Colleges like  Dr Ambedkar Institute of Management Studies and Research, Hislop College, G S College of Commerce & Economics, Kamla Nehru College, Dhanawatey National College and others participated.
Students presented papers on topics from various subjects like Information Technology, Education and social & general fields. Daud Khan of Centre Point College was declared the winner, for his presentation on "The World of Dreams". Avanika Gupta from Hislop College won the second position for her presentation titled "Need of Research Methodology in UG (Undergraduate) Arts courses".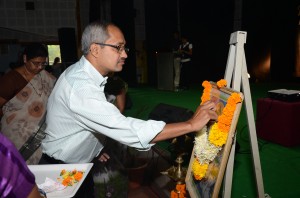 The event was largely attended by students and parents. Mohan Gandhe , President, Late M D Gandhe Memorial Educational Society, gave away the prizes to the winners. Dr Neeraj Vyas, Director, the members of the management and the staff of Centre Point College were present to motivate the participants. Mrs Sulbha Oke worked as the event coordinator. Mrs Dipali Naidu offered vote of thanks.