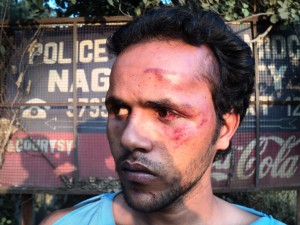 Nagpur News: When student Lakshmikant Kushawa approached MIDC police to seek justice after having been beaten up with hockey sticks and sharp weapons and threatened by his neighbours on Wednesday, the police allegedly refused to file an FIR (First Information Report), relenting only when they were provided with a formal medical report. When the case was filed, the charges framed were much less serious than what the situation demands.
It is a point to be noted that no document or proof is required to file an FIR, since it is the equivalent of  a mere police complaint and precedes all investigations into the matter reported. PSI S S Jadav, however, registered the FIR only after Lakshmikant and his friends got a medical report describing his injuries from a government hospital. While Lakshmikant stated a case of breaking and entering (which demands a case under Section 448 of the Indian Penal Code), as well as attack by dangerous weapons (Section 324 of the IPC), the FIR has only been filed under Sections 323, 504, 506 and 34 of the IPC (Indian Penal Code), making smaller  allegations like "intention to cause harm" and "intentional insult to provoke breach of peace". The political connections of  accused Nilesh Hiranwar are suspected to be behind the police's hesitation to deliver justice.
Lakshmikant was allegedly attacked in his rented rooms at Rajendra Nagar, Hingna Road by students Parivartan Singh, Brijesh Khan, Harshad Khan and their aqcuaintance Nilesh Hiranwar at 2:00 am on Thursday morning. The attack was a result of an altercation between Lakshmikant and senior student Parivartan Singh, over a scratch the former had accidentally caused on Parivartan's bike while taking his own bike out of the parking lot. Lakshmikant is a Second Year engineering student at GH Raisoni College of Engineering, and has come to the city from Bihar to pursue his graduation. Parivartan, Brijesh and Harshad are senior engineering students at Priyadarshini College of Engineering.
Parivartan Singh and Harshad Khan are now allegedly threatening to further harm Lakshmikant, if he does not withdraw the FIR.