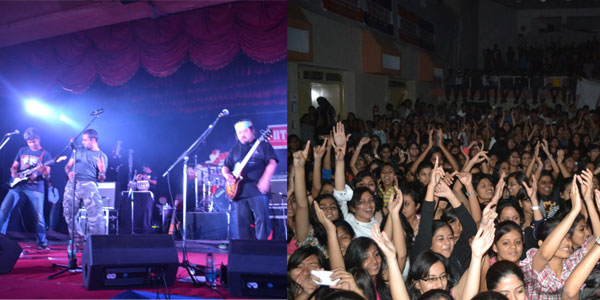 Nagpur News.
Marked with a series of rock solid performances by the participants at various competitions and topped up with power packed presentation by the famed rock n roll band from Delhi Parikrama band, Aarohi – the cultural fest at VNIT in Nagpur ended with aplomb late Sunday evening. The huge mass gatherings, especially the college students from across the nation, indicated the elevation of the atmosphere that filled tons of excitement, thrill and entertainment in the event.
The last day of the fest started with Purple Haze – a unique rock band competition that signified 21 aspiring participants rocking up the audience no end. The highs and lows on the rock notes took the listeners to the musical roller coaster ride.
Followed in the afternoon was Pentathlon – a unique test of strength and team coordination capability of the participating groups. There were five members in each group which vied for outperforming their counterparts at five different levels.
The event also saw some thinking moments with junior level Debater of the City contest where Prathmesh Kashimkar toppled all with his most convincing views and art of expression. Hatim Hussain took second position in the competition.
Finally, came the moment which was desperately being awaited by each and every youth. The rock heartthrob Parikrama Band welcomed the evening with their finely tuned signature styled chords. The ravishing notes took the audience by sweep with every Parikrama member performing to his full energy. As the show progressed, the atmosphere was fired up with the rage spread like wild fire among the jostling rock lovers.
The performers in the band included Nitin Malik as lead vocals,  Sonam Sherpa as lead guitars while Saurabh Choudhary played up guitar,  Subir Malik commanded keyboard for synthesizers, Gaurav Balani provide bass guitar support.
Srijan Mahajan was on the drums accompanied by Imran Khan on violins and Shambu Nath handed percussion.
Subir said that he never expected the crowd turn out to be crazily supportive of their performances. He said that Nagpur has certainly got the rock flowing into the young hearts.
….Ritu Walia