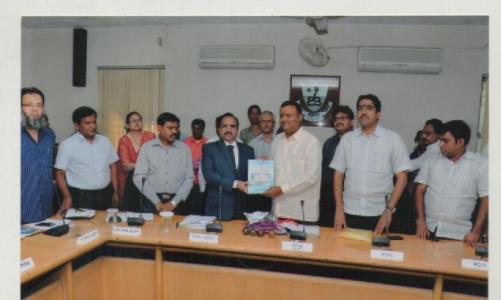 Nagpur News: Nagpur Municipal Corporation (NMC) Commissioner Shyam Wardhana on Monday presented for approval the amended budget for 2012-13 and proposed budget for 2013-14 to the Standing Committee Chairman Dayashankar Tiwari who had earlier presented the budget of Rs 1286 crore.  By putting forth the amended budget of Rs 1208 crore Wardhane has put to rest all the speculations regarding the inflated budget presented by Tiwari.
Wardhane said that the corrected budget has been prepared keeping into account the increased direct revenues during the last 8 months and expected income in the coming four months of the current fiscal. He raised hope the proposed budget for 2013-14 would certainly help enhance the revenue.
Incomings of Rs 1232.55 crore has been expected in the proposed budget which projected the opening balance amount of Rs 7.83 crore in which would be added Rs 540 crore from octroi, Rs 210 cr from property tax, Rs 150 cr from water bills, Rs 5.26 cr from open market, Rs 101.60 cr from town planning department and additional income of Rs 225.62 crores from miscellaneous sources.
The net expense of Rs 1232.47 crore is projected during the said financial year which include Rs 254.60 crore to be spent on employees' salaries, Rs 90 crore on pension, Rs 211.70 crore for miscellaneous expenses, Rs 76.84 crore for maintenance and repair works, Rs 56.65 crore on paying off loans and other heads.
Every year NMC gets half the budget cost from octroi and hence additional flying squads of octroi inspectors have been prepared to contain octroi theft by creating preventive stations and recovering octroi tax with fine from the defaulters. Property tax is second biggest source of NMC's income but the tax collection has fetched poorly as it is not being levied as per the population and number of houses. From this financial year, an additional levy of user charges would be recovered along with property tax for the garbage maintenance and processing. This is estimated to generate an additional income of Rs 100 crore. The proposal to add 5 percent extra levy on water tax has also been put up as water tax collection has been performing below expectation.
An income of Rs 5 crore has been projected from rent and lease of 4431 units under marketing department. This apart, NMC is looking forward to add Rs 100 lakh to its treasure from about 15,000 hawkers in the city while Rs 75 crore is expected from Town Planning Department.
FSI for cluttered areas to go up
In the proposed budget, the floor space index (FSI) could be raised in the range of 1.5 to 2 for populated colonies and areas which may also prove to be a beneficial move for NMC.
Besides, Rs 10 crore has been earmarked for star bus services while proposals to fully implement e-governance, improvise lakes, rivers and rivulets in the city, construct Manish Nagar and Pardi RoB, develop Orange City street on the lines of London Street and other developments have also been included in the budget.
Standing committee chief Dayashankar Tiwari informed the scribes that he was in the state of doubt over continuous cut in budget but now the difference between his and commissioner's budget is only of Rs 78 crore.
… Rajeev Khuswaha