The school management increases fee threefold for admissions to Standard III putting middle class parents in "killing" dilemma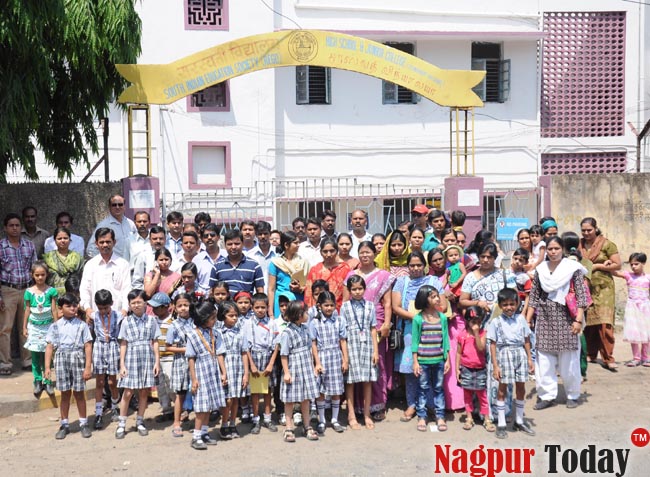 Nagpur News : The famous school in Nagpur – Saraswati Vidyalaya and Convent – in Shankar Nagar witnessed a huge gathering, not of students as usual, but of the parents of wards studying in Standard II. The parents created uproar and protested strongly the hike in fees of Standard II students. They also raised slogans against the management of the school.
The reason for outrage of parents was a notice board dangled in the school premises. The parents along with their wards had gone to the school as the result of Standard II examination students of the school was to be declared today (April 29). However, the parents spotted a notice board which informed them a steep hike in fees for those students who have passed the Standard II examination and were to be admitted in Standard III. The fee was hiked from Rs 5000 to a whopping Rs 17,250 or say threefold increase annually.
The shocked parents, majority of who are middle class families, felt it was impossible for them to pay such a massive amount in the present situation of "killing" inflation. However, the parents were seen most disturbed and outraged when they questioned the concerned school authorities about the reason for such a steep hike in fees. The authorities, instead of pacifying the parents with proper explanation for the fee hike decision, neglected them by replying unsatisfactorily and behaving with them in an indecent manner. This attitude of school authorities worked as putting oil into the fire. The enraged parents then resorted to slogan shouting and created a chaotic scenario.
Dimple Meshram, a resident of Kanfade Nagar, mother of a student, lamented with red-face that her son was studying in Standard II and has passed the examination. "Now, for his admission to Standard III, I feel totally helpless as the management of the school has increased the annual fees for e-section today from Rs 5,000 to Rs 17,250 that too without prior notice. This is nothing but dictatorship of school management," Dimple thundered. Another parent Deepak Shende, anger writ large on his face, said the school management's decision on fee hike has hit the parents like a lightning bolt. According to Right To Education (RTE), it is mandatory for every educational institute to admit students without any fee under 25 per cent seat quota of RTE. Therefore, it is obvious, the school management is putting the burden on the parents' shoulders and recovering the amount of loss from them. The parents would hold a meeting in this regard and raise their voice for justice.
On the other hand, the adamant school management has asked the agitated parents to admit their wards to other schools if they could not afford to pay the increased fee.