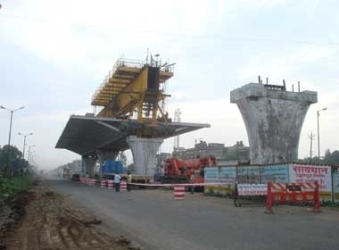 Nagpur News.
The process has been picked to start works of flyover from Pardi square to Gomti hotel square on national highway 7 in East Nagpur. The NMC officials along with local MLA Krishna Khopde and authorities from M/s Creation Engineering onThursday inspected the narrow bridge on Nag river in Pardi. NMC has directed the concerned company to submit its project report by the end of March.
Khopde informed that work order for this flyover would be probably issued by April end. The Pardi Bhandara road in east Nagpur is shown as national highway on map and its width is projected as 120 feet. The flyover along with road widening has been deemed necessary in view of the current traffic conditions.
Creation Engineering has been appointed as consultant for the concerned project. The company has even started survey works. The total cost of construction is estimated at Rs 70 crore.
During the last budget, NMC had made provisions for half of the cost while rest of the amount was expected from state government. However, the government is yet to act on the proposal which has created major hurdle in the construction of flyover. Now NMC has decided to bear entire cost of constructing this flyover.
Khopde also brought the attention of NMC officials towards rising number of accidents due to the narrow bridge.
The inspection team comprised NMC city engineer Sanjay Gaikwad, deputy engineer DD Jambhulkar, branch engineer Shakeel Niyazi, officials of Creation company Jitendra Lavande and Prashant Dandekar, nagarsewak Devendra Meher, Chetna Tank and others.