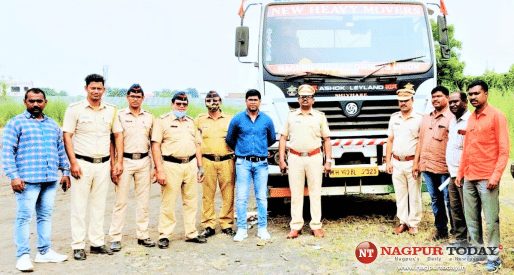 Nagpur: Pardi cops caught a criminal red-handed while stealing an 18-wheeler truck in the intervening night of Tuesday and Wednesday. The accused has been identified as Itwaridas alias Kalu Shivnathdas Manikpuri (34), resident of Navin Nagar, Pardi.
According to police, the complainant Chandrashekhar Chimanlal Shivhare (58), resident of Reshimbagh, loaded his 18-wheeler truck (MH-40/BL 3323) with four bundles of Tata Company's HR Seat Packets and parked his truck at Mahalaxmi Auto Service, opposite Bharat Petrol Pump on Umiya Kapsi Road. He locked his truck and went for dinner.
Between 10 pm of Tuesday and 1 am of Wednesday, a patrolling team of Pardi police spotted the 18-wheeler truck on Punapur Road. Suspecting something faul, the cops signalled the driver to stop. But he raced the vehicle in order to flee. Cops chased him and intercepted the truck near Kajal Beer Bar, Punapur Road, Pardi and confronted the driver. When the driver fumbled, police asked him to come down and asked him his identity. The person told his name as Itwaridas alias Kalu Shivnathdas Manikpuri.
Cops brought the truck and the accused to the police station and after checking the crime record, the accused turned out to be a history-sheeter involved in many crimes. Subsequently, police called Shivhare and asked him about the accused. Shivhare told police that he does not know the accused and he was not his driver. The accused was stealing the 18-wheeler truck. The truck worth Rs 20 lakh and the four bundles of Tata Company's HR Seat Packets worth Rs 33 lakh were seized by police.
Cops booked the accused under Section 379 of the IPC and arrested him.
The arrest was made by Senior PI Manohar Kotnake, PI (Crime) Bharat Shinde, PSIs Sharad Shipne, Amit Mishra, constable Chhagan Raut, and other staff including Rajesh Naik, Vijay Lande, Manoj Rehpade, Rupesh Thul, Ajay Shukla, Manish Tiwari under the guidance of DCP Zone 5 Manish Kalvaniya and ACP Roshan Pandit.